Free Online Audio Converter
convert audio from & to any format online
The Best Audio Converter Online
Are you looking for an efficient and convenient way to convert from & to audio free online? KitsRun online audio converter is definitely your best choice since it can convert video to audio and vice versa online without any charge. It also works at a blazing-fast speed while providing excellent output quality. In addition, it only takes three simple ways to change files directly: upload your files, pick the desired format, and hit the Convert button. Come to convert audio from and to any file format you want free online!
Wanna Convert Files Without Limitation? Try the Premium Converter!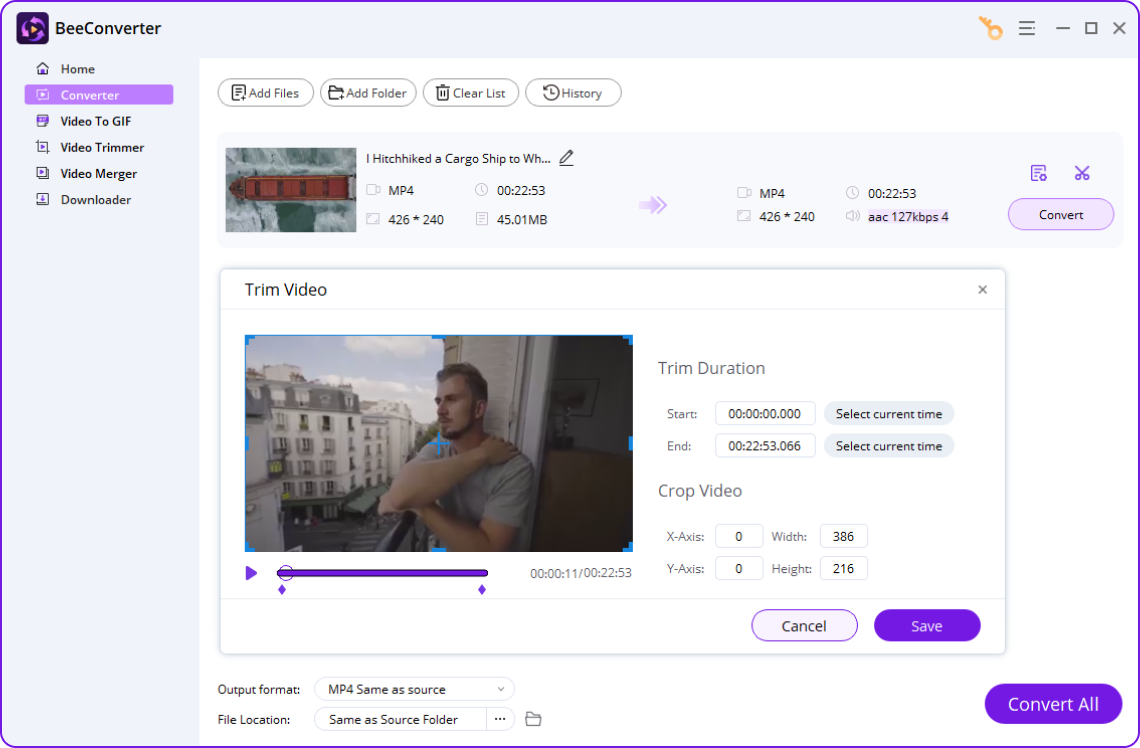 Premium Converter
Unrestricted file size for importing and exporting
Convert files between 300+ formats at 60X speed
Save 320K music and 4K videos from 1,000+ sites
Powerful video editing tools: trim, crop, and merge
How to Convert Audio Free Online?
1. Upload the Targeted File

Simply drag the targeted files to the upload box or tap the Upload icon.

2. Select Desired Output Format

Pick a desired format from the list of video and audio file formats.

3. Start the Conversion

Tap the Convert button to convert files from or to audio directly.
Impressive Features That Satisfy All Your Audio Conversion Needs
200+ Formats Supported

Committed to offering you fantastic service to convert audio songs without format limits, our online audio converter can convert video to audio and vice versa free among 200+ formats, including MP3, MP4, WAV, M4A, etc.

Cost-Free Service

Services as a 100% free-to-use tool, KitsRun free audio converter allows you to convert audio music to a wide range of formats at no cost. No hidden charge or obligation is allowed here. Enjoy our cost-free service here!

Stunning Quality

KitsRun lossless audio converter online free tool is designed to provide you with a quality-oriented audio format transformation, converting audio from and to any file format free online without ruining audio quality.

Work Efficiently

KitsRun audio music converter boasts blazing-fast speed that can translate audio files in seconds. We deliver super-fast audio song conversion speeds, streamlining the process of converting from & to audio efficiently.

Privacy & Security Guarantee

Our free music converter is regularly updated with the latest security technology, guaranteeing your file security. All your files will be deleted directly after the conversion. No one except you can get your files.

Flexible Compatibility

Our best free song converter is in a position to convert video to audio songs and vice versa on all devices. It also works smoothly on most popular browsers, such as Chrome, Microsoft Edge, Firefox, etc.
What is Audio?
Audio is sound, the vibrations that travel through air, water, or other mediums, detected by the human ear. It can be natural, like birdsong, or artificial, such as music or speech. Microphones and speakers enable the capture and reproduction of audio, enhancing communication, entertainment, and the overall human experience.
FAQ about Audio Converter Online
What is the best format for audio?

The best audio format depends on your specific needs. For high-quality and lossless audio, formats like FLAC are excellent. If you're looking for a good balance of quality and file size, MP3 is a widely used and compatible option. For professional studio work, WAV files are often preferred. Therefore, you're supposed to convert files to different audio formats to suit your specific needs. Try our audio online converter to convert audio files to any format you want. It supports 200+ format conversions online at no cost!

How to convert video to audio online for free?

Are you looking for a free online video to audio converter? Our audio converter is definitely your best choice since we are in a position to extract audio from video online without charge. Simply upload your video files to our site and choose the output format, then you will get the music audio you want directly at no cost.

M4A vs MP3: which audio format is better?

It depends on your different needs. M4A file is typically associated with Apple and is known for better sound quality at the same bit rate as MP3. MP3 audio, on the other hand, is more widely supported across various platforms. It's also known for its smaller file sizes. Therefore, you're supposed to use our audio converter free tool to convert M4A to MP3 for broader compatibility or convert MP3 to M4A files for higher audio quality.

How can I convert audio files on Mac?

All you need is to open our audio converter for Mac, which is able to turn video to MP3, M4A, OGG, and more audio file formats and convert audio to WAV, MP3, etc. It only takes a few seconds to convert all your audio files with top quality on Mac.

How to convert audio to MP3 without losing quality?

KitsRun online audio file converter is in a position to convert audio to MP3 music without losing quality. If you're looking for a more powerful tool, try Premium Converter. It can enhance your audio quality in batch at lightning-fast speed. Besides, it allows you to convert more than 1,000 formats, satisfying all your needs!
How Would You Rate Us?
Please rate us 5 stars if you like the online audio converter!
Last updated: 2023-10-19