Premium Converter
4.8 1.5K ratings
Convert audio/video with no quality loss
Convert between 300+ video & audio formats
Facilitate conversion at an ultra-fast 60X speed
Integrated with trim and merge editing tools
Grab music & video from 1,000+ popular sites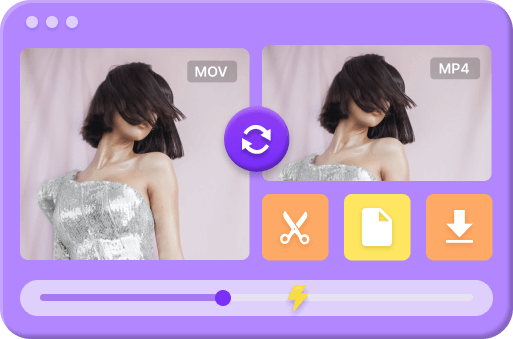 What is AVI?
With video overwhelmingly touching people's lives in the most immediate way, people have been growing the desire for video file formats that can deliver exceptional quality. AVI, an outstanding audio and video file format, rises in response to the proper time and conditions. Wanna have a clear grasp of the basic features of AVI? What is .avi? What the AVI can be used for? How to convert AVI? How to play an AVI file? Let's embark on an expedition to unravel the intricacies of this remarkable AVI format.
What is An AVI?
The widely used and recognized video format, AVI, developed by Microsoft in 1992, an abbreviation for Audio Video Interleave, embraces the ability to store audio and video content together with high efficiency. Containing both audio and video data compressed, AVI files employ various codecs for high-quality playback, which make it a preferred pick for film and other media industries.
Pros

Superb quality
Broad compatibility
Editing flexibility
VS
Cons

Relatively large file size
Lossy compression
Admirable Features of AVI
Unparalleled Video Quality
Embracing the capability to preserve the integrity of content and presenting visuals and audio with unrivaled clarity and brilliance, AVI is regarded as the preferred video format to offer people an immersive multimedia experience.
Fully Browser Compatibility
AVI files traverse the vast range of operating systems, media players, and devices, showcasing their versatile compatibility. Whether you are a devout Windows, Mac, or Linux user, seamless playback of AVI files is guaranteed, ensuring a harmonious experience across various platforms.
Editing Supported
AVI files are friendly to edit as they are supported by a wide array of video editing software. The awesome editing flexibility empowers users to customize and enhance their content based on their requirements. AVI videos give free rein to creativity for video creators and enthusiasts.
What is An AVI File Used for?
Film and Entertainment
The film and entertainment industry is pleasing to employ the cosmic influence of AVI. As a favored format for storing movies, trailers, and promotional videos, AVI ensures captivating visual experiences for viewers. Its compatibility and high-quality playback lay the foundation for a cinematic journey like no other.
Education and E-Learning
In the realm of education and e-learning, AVI stands as a formidable format, facilitating interactive and engaging educational videos. Through AVI, educators can deliver instructional content that simplifies complex concepts, making learning accessible and engaging for students.
Video Conferencing
AVI assumes a crucial role in the field of video conferencing, fostering superior-quality audio and video communication. Its seamless integration enables effective collaboration and fluid interactions, transcending the barriers of physical distance.
Gaming
The gaming industry uses AVI as a significant video format to enhance gaming experiences. It serves as a commonly-used file to store gameplay footage, and cinematic sequences, enabling game developers to create visually stunning and immersive gaming adventures that captivate players' imaginations.
AVI vs. Other Video Formats
AVI vs MP4
AVI and MP4, two prominent files in the world of multimedia, display distinct characteristics that influence their preference among users. AVI's compatibility and editing flexibility position it as a favored choice for professional use, whereas MP4 excels in compression and streaming capabilities, making it a popular format for online video distribution.
AVI vs MKV
MKV, known as Matroska Video, boasts versatility and extensive support for various video and audio codecs, making it ideal for storing high-quality video content. AVI, on the other hand, embraces broader compatibility across different devices and platforms, appealing to a wider audience.
How to Convert AVI File?
Have you ever encountered a predicament where you can not play AVI files on your device? One solution for that is to convert AVI to MP4 or other video format with wide compatibility. Therefore, it is of great convenience for you to have a hassle-free AVI converter. Our online free AVI converter and Premium Converter are your ultimate options. They are all ease of use, but Premium Convert excels in the ability to work in bulk at an extremely swift speed. Moreover, the excellent software packs some video editing and downloading features, which are a boon for everyone.
Premium Converter
4.8 1.5K ratings
• Convert file to MP4, MOV, OGG, MP3, WAV, and any video/audio formats.
• Support 4K/HD 1080p/SD 480p video conversion.
• Convert video to GIF regardless of file size.
• Download high quality music & video from 1,000+ trending sites.
• Converted output is available for Apple, Samsung, Android, Huawei and so on.
• Able to trim/crop/merge video, adjusting output video width, height, and resolution.
Step 1. Download and install Premium Converter on your device.
Step 2. Open the software. Then you should go to the Convert tab. Next, click the + Add File button to import the file you want to convert.
Step 3. Select a desire format and output quality you need.
Step 4. Hit the Convert or Convert All button to convert PNG to other formats and vice versa.
How to Play AVI Files?
As a multitude of AVI file players emerge, playing AVI videos is never an arduous matter. Whatever device you use, there are always tools available. On account of device compatibility, we have sorted out some AVI video players that are applicable to different systems of devices.
1. Microsoft Movies & TV (Windows), Microsoft Windows Media Player (Windows)
2. Apple QuickTime Player (macOS)
3. Adobe Premiere Pro (multiplatform) and VLC media player (multiplatform).
4. VLC (iOS, Android), J2 Interactive MX Player (Android), and olimsoft OPlayer (iOS).
Frequently Asked Questions (FAQs)
What does AVI stand for?
AVI, a multimedia container format, is the abbreviation for Audio Video Interleave. Launched by Microsoft in November 1992, AVI stands out for its ability to contain video and audio content in high quality and broad compatibility with various operating systems, media players, and devices.
How to open AVI files on my computer?
There is a large variety of tools available for opening AVI files on a computer, like Microsoft Movies & TV (Windows), Microsoft Windows Media Player (Windows), Apple QuickTime Player (macOS), and VLC media player (multiplatform). You should install one based on the system of your device.
Can I convert AVI to MP4?
Yes, you can if you resort to our online free AVI converter that enables you to convert AVI to MP4 online with 3 simple clicks. Not only is it easy to use, but it works with highest efficiency. Give it a try!
Is AVI compatible with mobile devices?
Yes, AVI files can be played on many mobile devices by utilizing compatible media player apps or installing codec packs. Ensure that your mobile device supports AVI files or use a media player app capable of handling AVI files.
Is AVI good for streaming?
AVI file may not be the best format for streaming for its large file size. I recommend the MP4 format as it offers better compression that results in a small file size.
Conclusion
AVI emerges as a prevailing video format, commanding attention with its versatility and functionality. Short for Audio Video Interleave, with its seamless fusion of audio and video, captivates users across diverse industries and applications. Though it bears certain limitations, AVI continues to exert influence in multimedia experiences. So, embrace the magic power of AVI, and unlock the wonders encoded within it. By the way, if you intend to convert AVI file to other formats, do not hesitate to give our Premium Converter a shot!
Last updated: 2023-07-11