Premium Converter
4.8 1.5K ratings
Convert audio/video with no quality loss
Convert between 300+ video & audio formats
Facilitate conversion at an ultra-fast 60X speed
Integrated with trim and merge editing tools
Grab music & video from 1,000+ popular sites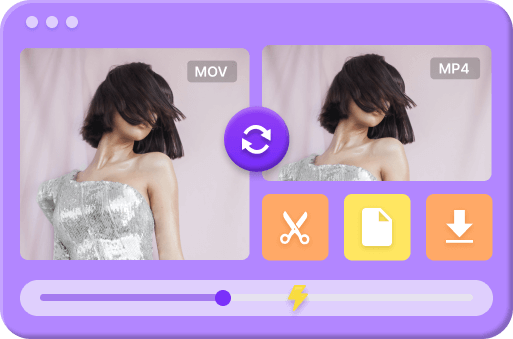 What is GIF?

- Unlocking the Essence of GIF
In the photo-loving age, it is inevitable to use or encounter GIF - an image file, short for Graphics Interchange Format. It is well-recognized that GIF comes as a vital role in conveying emotions, humor, and message in a visually impressive manner. Have you ever wondered about GIF meaning? What is the most outstanding feature of GIF images? If your answer is yes, look no further. The article will provide you with detailed information concerning the essence of GIF, the merit and demerit of GIF file, and how to create, and convert open GIF picture. So let's embark on the journey to obtain a deep understanding of GIF image.
What is A GIF?
Favored by people, the widely used image GIF stands for Graphics Interchange Format. It sets itself apart from other images for its capability to present both static and animated images. GIF pictures are able to show every sequence of images, which gives rise to multiple possibilities. It can be employed in showcasing products, delivering personal feelings, and even bringing new life to online content. So let us uncover some of these remarkable attributes and usages:
Pros

Animation
Compact size
Browser compatibility
Transparency
VS
Cons

Limited color range
File Size restrictions
Lower video quality
Incredible Features of GIF
Animation Support
The most prominent feature of GIFs is their innate ability to bring animation to life. Whether it's a hilarious reaction, a captivating product demonstration, or a mesmerizing visual effect, GIFs empower you to incorporate movement and seize attention with their compact and shareable format.
Transparency
GIFs possess an intriguing feature: transparency. This allows specific parts of a GIF image to become transparent, enabling seamless blending with webpage backgrounds or other images. The creative possibilities are endless, resulting in visually appealing and innovative designs.
Text Overlay
GIFs offer effortless integration of text overlays, captions, or callouts, providing a powerful medium for conveying messages, emphasizing key points, and providing the context within the animation itself. The versatility of GIFs shines through their ability to incorporate textual elements.
Compatibility
GIFs enjoy broad support across various web browsers, ensuring a seamless viewing experience for users, regardless of the browser or device being used. Their compatibility across different platforms enables widespread accessibility, reaching a diverse audience effortlessly.
Ease of Sharing
It is exceedingly convenient to share GIFs on various platforms. You can embed them in emails, post them on social media platforms, include them in presentations, or send them through messaging apps. Thanks to their compact size, GIFs can be effortlessly shared and enjoyed by others.
What is GIF Used for?
Social Media
GIFs have seamlessly integrated into the fabric of social media culture. They enable users to express emotions, reactions, and convey humorous messages concisely and engagingly. From reaction GIFs to animated memes, social media platforms provide an ideal space for widespread GIF usage.
Digital Marketing
Within the realm of digital marketing, GIFs offer a creative avenue for capturing attention, showcasing products or services, and effectively communicating brand messages. Advertisements, email campaigns, social media posts, and website banners can all benefit from the impactful presence of GIFs.
Tutorials and Demonstrations
GIFs serve as invaluable tools for step-by-step tutorials, demonstrating processes, showcasing software functionality, or providing guidance on product usage. Their concise and visually appealing nature makes them a powerful medium for teaching and guiding users.
Memorable Moment
GIFs immortalize memorable moments from movies, TV shows, or sports events, swiftly becoming a part of internet culture and widely shared. By enabling people to relive and share their favorite moments, GIFs foster a sense of nostalgia and create a vibrant online community.
Micro-Animations
Within websites, applications, or presentations, GIFs can introduce subtle and engaging micro-animations. These small yet captivating animations enhance the user experience by adding interactivity and visual interest to the overall design, making interactions more enjoyable.
How to Create A GIF File? - Popular GIF-Making Tools
It is significantly beneficial for us to know how to create a GIF file with the right tools. There is a vast collection of software applications and online platforms available for making GIF images. I would like to share with you some useful tools, Giphy, Adobe Photoshop, EZGIF, and Imgflip.
These excellent GIF makers have the tremendous ability to help you create, edit, resize, add text, and add different effects on GIF efficiently.
How to Convert GIF?
Converting GIF to images in various formats, like JPG, JPEG, and PNG, can drive new usages. So it is of significance for us to use an ideal tool to convert GIF files. We desire to offer you two exceptional GIF converters - online GIF converter and Premium Converter. However, the Premium Converter excels in converting GIF in bulk at a blazingly fast speed. What's more, it also allows you to convert video, edit video, and even download video and music from many websites. The Premium Converter is a big feat for people. Don't miss it!
The following are 4 steps to guide you to convert GIF images.
Premium Converter
4.8 1.5K ratings
• Convert file to MP4, MOV, OGG, MP3, WAV, and any video/audio formats.
• Support 4K/HD 1080p/SD 480p video conversion.
• Convert video to GIF regardless of file size.
• Download high quality music & video from 1,000+ trending sites.
• Converted output is available for Apple, Samsung, Android, Huawei and so on.
• Able to trim/crop/merge video, adjusting output video width, height, and resolution.
To start with, you should download and install Premium Converter software on your device.
Open the software, then you should go to the Convert tab. Next, click the + Add File button to import the file you want to convert.
Choose the desired format and output quality you want.
Hit the Convert or Convert All button to convert GIF to other formats.
How to Open GIF?
Due to the vast popularity of GIF photo, GIF can be opened on more and more platforms and devices. So when it comes to opening .gif file, we are willing to recommend several quick and convenient tools, such as Giphy, Adobe Photoshop, and EZGIF offer the functionality of opening GIF at a professional level. These tools come with straightforward interfaces and several features that render opening GIF files ultra-easy.
Frequently Asked Questions (FAQs)
Can I create GIFs on my mobile device?
Yes, you can if you use a suitable tool. We can find numerous mobile apps that enable you to make GIF photo on your mobile device. These well-reviewed apps, such as Giphy, ImgPlay, and GIF Maker, all can make it!
What does GIF stand for?
GIF stands for Graphics Interchange Format. It is a widely-used image file containing static and animated pictures. So GIF image is perfect for expressing affection and messages.
Why do people use GIF?
People use GIF image for amusement, promoting products, social communication, and more purposes. Because GIF boasts the features of conveying emotion, showing details of a product, and spicing up online communication.
Are GIFs compatible with social media platforms?
Yes, almost all social media platforms support GIF, like Facebook, Twitter, Instagram, and WhatsApp.
Can I convert a GIF to a video format?
Of course, you can. Our Premium Converter comes in handy. It is a full-featured tool that can convert GIF to any format with the highest efficiency. Our tool does well in batch conversion and gives you a chance to convert, trim and merge video. Moreover. It empowers users to download music and video from numerous websites. It deserves your try!
Conclusion
In conclusion, GIFs have permeated our digital experiences, becoming an integral part of online communication. Their animation capabilities, compact size, compatibility, and ease of sharing make them an ideal choice for expressing emotions, conveying messages, and adding visual interest to various forms of online content. The article - What is GIF? aids you in understanding their features, uses, and the processes of creation, conversion, and opening, which empowers you to harness the power of this captivating image format. So, embrace the world of GIFs and let your creativity shine through captivating animations. If you yearn to convert GIF to other formats, don't hesitate to give Premium Converter a shot! It will endow you with an impressive conversion experience.
Last updated: 2023-06-16