Premium Converter
4.8 1.5K ratings
Convert audio/video with no quality loss
Convert between 300+ video & audio formats
Facilitate conversion at an ultra-fast 60X speed
Integrated with trim and merge editing tools
Grab music & video from 1,000+ popular sites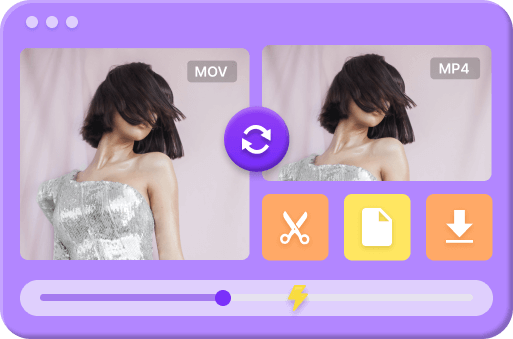 What is JPG?

- Enhancing Your Understanding of JPG
If you are an avid photographer, you mustn't be a stranger to JPG images. JPG is short for the Joint Photographic Experts Group, and it is gaining large popularity for saving digital photos. Do you yearn to have a deep sight into the JPG file? In the following section, we will help you enhance your understanding of JPG by exploring the JPG meaning, its strengths and weaknesses, and discovering the useful tool to open and edit JPG file, and the best image converter to convert JPG to other formats. Can't help moving forward? Let's go straight into it!
What is A JPG File?
A JPG file denotes an image file that incorporates a lossy compression algorithm, effectively reducing the file size while maintaining a satisfactory level of image quality. JPG image format has extensive usage in a comprehensive range of images, containing photographs, graphics, and web images. In addition, JPG is able to support nearly 16.7 million colors, which makes it a preferred pick for capturing and storing realistic, vibrant images.
Pros

Small file size
High compatibility
Photographic realism
Editable
VS
Cons

Lossy compression
Artifact generation
Limited transparency support
Key Features of JPG
Lossy Compression for Compact File Sizes
One of the most outstanding advantages of JPG relies on the feature - the size of a JPG file is smaller than most image files. JPG format excels in the ability to use lossy compression for minimizing the file size, which makes it the favorite pick to share and store a vast number of photos while taking on less storage space.
High Compatibility with Various Devices and Software
JPG files boast broad compatibility across diverse platforms, operating systems, and software applications, which enables people to easily open or edit JPG images. So it is much-loved by designers, photographers, and internet influencers.
Support for Millions of Colors and Photographic Realism
JPG files are particularly well-suited for storing photographs and images that require meticulous attention to detail and color accuracy. The format successfully preserves the intricate nuances, shades, and details of photographs, enabling them to appear visually striking and realistic.
What is JPG Used for?
Web Design
JPG finds extensive use in web design, specifically for displaying images on websites. Its small file size and compatibility make it the ideal choice for optimizing web page loading speed while preserving the original image quality.
Photography
JPG stands as a popular choice for storing and sharing digital photographs. Its capacity to retain photographic realism and reduce file sizes proves highly advantageous for photographers managing extensive image collections.
Social Media
Various social media platforms readily accept and display JPG images. Whether sharing personal photos or promoting visual content, the JPG format emerges as a suitable option due to its compatibility and reasonable image quality.
Printing
JPG files can be effectively utilized for printing purposes, particularly in scenarios where file size needs to be manageable without compromising image quality. They are commonly employed for creating photo prints, posters, and other printed materials.
Difference Between JPG and JPEG
The terms "JPG" and "JPEG" are often employed interchangeably, referring to the same file format. Both terms derive from the full name "Joint Photographic Experts Group." The ".jpg" and ".jpeg" file extensions indicate the same image format and are supported by most image viewing and editing applications. Consequently, there exists no significant distinction between JPG and JPEG files.
How to Convert JPG?
In the ocean of images, images in different formats can have distinct visual effects. So there is a huge demand for converting image formats. When it refers to converting JPG to other formats and converting an image to JPG, we would like to introduce two well-reviewed image tools - online JPG Converter and Premium Converter that are designed to convert image to JPG and convert JPG to PNG, JPEG, and any format you want. However, the online JPG converter fails to convert images with the highest efficiency. The Premium Converter does a great job in batch conversion at an ultra-fast speed while offering output with excellent quality. Moreover, it enables people to convert video and download music and video from a multitude of streaming sites. The tool deserves your try!
In the upcoming section, we will provide a tutorial concerning how to convert JPG with the Premium Converter.
Premium Converter
4.8 1.5K ratings
• Convert file to MP4, MOV, OGG, MP3, WAV, and any video/audio formats.
• Support 4K/HD 1080p/SD 480p video conversion.
• Convert video to GIF regardless of file size.
• Download high quality music & video from 1,000+ trending sites.
• Converted output is available for Apple, Samsung, Android, Huawei and so on.
• Able to trim/crop/merge video, adjusting output video width, height, and resolution.
Download and install Premium Converter.
Head to the Convert tool, then you can hit the + Add File to upload image file you are going to convert.
Next, you are supposed to choose a desired image format and output quality.
Click the Convert or the Convert All to convert the JPG image.
How to Open JPG Files?
The rapid advancement of media technology contributes to easy access to open JPG files. Nowadays, most modern operating systems, Windows, Android, macOS, iOS, and more, are equipped with an image viewer to allow people to open JPG image with the highest efficiency. Alternatively, you can turn to these full-featured image-viewing software, such as Adobe Photoshop, GIMP, or Microsoft Paint. They all prove ideal for opening JPG pictures, and creating social media graphics, presentations, and marketing materials.
Frequently Asked Questions (FAQs)
What does JPG stand for?
JPG stands for Joint Photographic Experts Group, which is an image file format applying compression technology to strike the best balance between quality and file size. So it is favored by many photographers to store images and photos.
Are JPEG and JPG the same?
In essence, JPG and JPEG are the same. They are all abbreviations for Joint Photographic Experts Group. Both terms refer to the same image file format with the file extension ".jpg".
How do I convert a picture to JPG?
You can turn to our Premium Converter that is a professional tool to convert pictures to JPG format with sound quality. It also has the ability to convert images in bulk at a super fast speed. What's more, it allows you to download music from 300+ sites, which is a huge fit for music enthusiasts.
What is a JPG file best used for?
Boasting the 2 features - the full compatibility with different devices and software, and the pretty representation of photographs, the JPG file is the best option for web design, photography, social media, and printing.
What is the difference between JPG and PNG?
The most striking difference between JPG and PNG is that JPG utilizes lossy compression for a small file size while PNG employs lossless compression for higher quality. On the other hand, what do png files offer that jpg files do not? PNG files support transparency, whereas JPG files do not.
Can I convert PNG to JPG?
Yes, you can if you use our Premium Converter- the top-rated choice for converting image format. It is capable of converting PNG to JPG with the best quality. It is easy to use, fast, and secure. Come to give it a try!
Conclusion
To summarize, JPG represents a widely embraced file format that successfully balances image quality and file size. It boasts small file sizes, extensive compatibility, and the ability to retain photographic realism. Although it has certain limitations like lossy compression and limited transparency support, JPG remains the preferred choice for web design, photography, social media, and printing. The common question - What is JPG? We have made it clear by comprehending the JPG definition, features, and applications of JPG files. You can effectively work with and optimize images in this format. It is also noteworthy that the Premium Converter, the ideal and reliable tool, helps you convert JPG files with supreme quality. Don't hesitate to give it a shot!
Earnestly hope you can benefit a lot from the compressive article!
Last updated: 2023-06-16