Premium Converter
4.8 1.5K ratings
Convert audio/video with no quality loss
Convert between 300+ video & audio formats
Facilitate conversion at an ultra-fast 60X speed
Integrated with trim and merge editing tools
Grab music & video from 1,000+ popular sites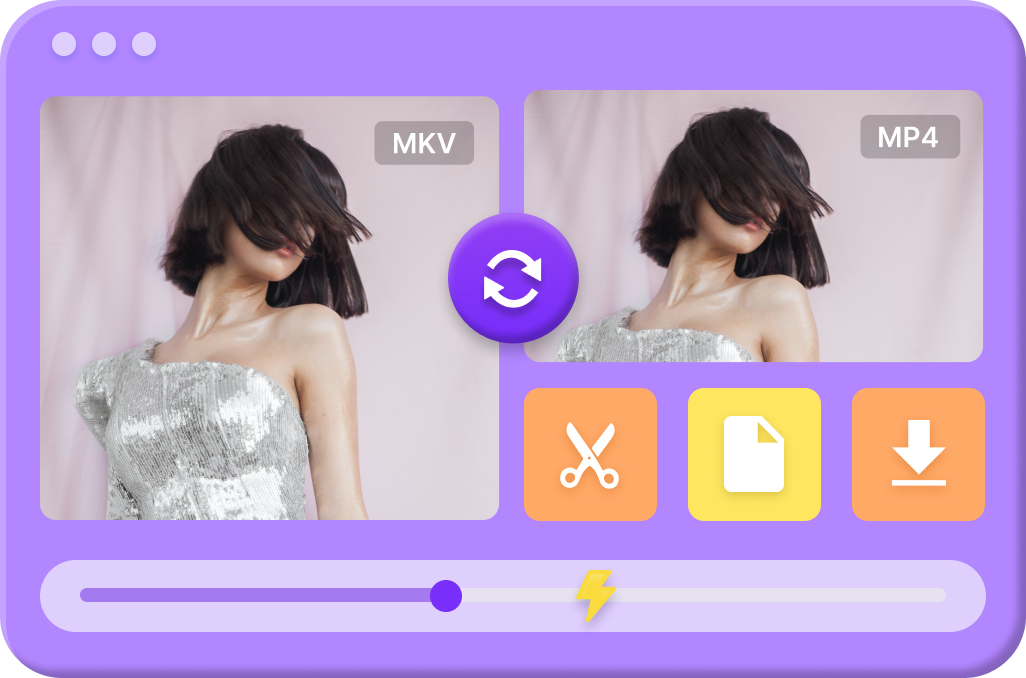 What is MKV and How Does It Work?
There are a substantial number of file formats in today's digital age, each with unique features and usages. One such format that has gained popularity is MKV. But what exactly is MKV? In this article, we will unravel the mystery behind MKV (Matroska Video), delving into its features, pros and cons, and explore the tools available for opening and converting MKV files.
What Is an MKV File?
MKV, a condensed form of Matroska Video, stands as a multimedia container format that can house an infinite array of video, audio, subtitle, and metadata tracks within a single file. It swiftly gained acclaim due to its distinctive attributes.
Pros

Superior Quality
Versatility
Open-Source
Wide Compatibility
Error recovery
VS
Cons

Large Storage Space
Lack of Platforms Support
Limited DRM support
Slower playback on low-end devices
Admirable Features of MKV
High-Quality Video and Audio
The most remarkable trait of the MKV video format is that it is in a position to store high-definition video & audio with no quality compromise. With MKV, you won't be bothered by video quality loss when downloading your favorite movies and TV shows.
Support for Multiple Subtitles and Audio Tracks
MKV format supports multiple audio and subtitle tracks in a single file. This feature is particularly useful for international audiences, allowing them to select their preferred language and subtitles. That ensures your content reaches a broader audience.
Flexible Container Format
MKV is known for its flexibility as a container format. It can encapsulate various video and audio codecs, making it a versatile choice for multimedia content creators. MKV doesn't even restrict you to a single video or audio track. You can mix and match, add chapters, and even include interactive menus, making it perfect for creating rich multimedia experiences.
Open-Source and Cross-Platform Compatibility
The open-source nature of MKV promotes continuous development and compatibility across different platforms. It also encourages innovation and widespread adoption. It plays nicely with a variety of operating systems and media players, ensuring that your content can reach as many viewers as possible.
What is MKV File Used for?
Multiple Audio and Subtitle Tracks
MKV files allow you to include multiple audio tracks and subtitle options within a single file. This feature is especially handy for international audiences or those with accessibility needs. Users can choose their preferred audio language or subtitles, enhancing the viewing experience.
Video & Audio Storage
MKV files are commonly used for storing video content. They excel at preserving the original quality of videos, making them ideal for archiving high-definition movies, TV shows, and home videos. Unlike some other formats that may compress videos, MKV maintains the utmost quality. In addition to video, MKV file types can store audio tracks in various formats. This feature is especially useful for creating digital music collections or preserving audio recordings with minimal loss of quality.
Editing and Conversion
Professionals often use MKV files as an intermediate format during video editing. They retain quality while allowing for easier editing and conversion into other formats for final distribution. You can easily extract, edit, or convert individual tracks within an MKV file, making it a valuable tool for multimedia professionals.
MKV vs Other Formats
MKV vs MP4
In the MKV vs. MP4 battle, there is no clear winner. The choice between these formats depends on your specific needs and priorities. MKV shines in its versatility and support for various codecs, making it an excellent choice for media enthusiasts and collectors. Besides, it supports H.264 AVC for HD videos. On the other hand, MP4's widespread support makes it the preferred format for online sharing and streaming. It also gets a smaller file size than MKV.
MKV vs AVI
MKV offers versatility, high-quality content, and the ability to handle multiple multimedia elements. It's ideal for archiving and catering to diverse preferences. AVI's simplicity and broad compatibility make it a reliable choice for general video playback and sharing.
MKV vs MOV
MKV offers versatility, high-quality content, and the ability to handle multiple multimedia elements. It's ideal for archiving and catering to diverse preferences. MOV, on the other hand, excels in multimedia editing, professional use, and seamless playback on Mac and Windows.
If you seek versatility and compatibility across multiple platforms, MKV is the way to go. On the other hand, if you're immersed in the Apple ecosystem and prioritize seamless playback and sharing, MOV is the clear winner.
MKV vs WebM
When it comes to choosing between MKV and WebM, it's essential to consider their specific strengths and use cases. WebM is tailor-made for web-based applications and streaming, prioritizing efficient delivery over extensive features. In contrast, MKV boasts a broader array of features and superior quality, making it a preferred option for standalone media files.
How to Convert MKV?
While MKV video files are known for their high-quality video and audio capabilities, they can sometimes pose compatibility issues with various devices and media players. Therefore, you're supposed to convert MKV to other formats in some situations. Our
Free MKV Converter
can convert files to MKV or convert MKV to any other format efficiently for free. If you're looking for a more powerful file conversion service, try our
Pro Video Converter
, one of the best video converters, in a position to MKV files to 1,000+ formats in batch with no limit. Moreover, it can also enhance the video quality of output while converting at a lightning-fast speed! Here are four simple steps to convert video files with Pro Video Converter.
Premium Converter
4.8 1.5K ratings
• Convert file to MP4, MOV, OGG, MP3, WAV, and any video/audio formats.
• Support 4K/HD 1080p/SD 480p video conversion.
• Convert video to GIF regardless of file size.
• Download high quality music & video from 1,000+ trending sites.
• Converted output is available for Apple, Samsung, Android, Huawei and so on.
• Able to trim/crop/merge video, adjusting output video width, height, and resolution.
Install Pro Video Converter on your device.
Open the software. Then, go to the Converter tool. Next, tap the + Add File button to import the file you want to convert.
Choose the desired format and quality you want.
Tap the Convert or Convert All button to convert MKV to other formats and vice versa.
How to Play An MKV Files?
MKV files offer excellent video quality. However, playing MKV videos could be hard, except if you have the right programs or MKV codecs installed on your device. Don't worry about that. Here, we'll detail how to play MKV files on different devices and platforms.
Play MKV Files on Windows with MKV Media Player
Don't know how to play .mkv files on Windows? It's not that difficult to play MKV videos on Windows, since several popular MKV media players can work smoothly on Windows. In this instance, VLC Media Player, Windows Media Player, Media Player Classic, etc. Moreover, these media players seamlessly integrate with Windows when coupled with the appropriate MKV codec pack, ensuring smooth playback experiences.
Download Codec Pack for Windows Media Player
Windows Media Playe may not have built-in support for some less common file types. When you try to play a file that Windows Media Player doesn't recognize, you'll likely meet an error message. You need to download code packs for this situation. Code packs contain a collection of codecs that extend the player's capabilities, allowing it to play a broader range of file formats. Here are some popular Codec Packs for you to play MKV on Windows Media Player:

K-Lite Codec Pack: K-Lite is a widely trusted codec pack known for its comprehensive codec support. It comes in various versions, with the "Full" version being suitable for most users.

CCCP (Combined Community Codec Pack): CCCP is another excellent choice, focusing on providing a minimalistic yet effective set of codecs for playback.

Windows 7 Codec Pack: This codec pack is designed for Windows 7 but works on later versions as well. It offers a straightforward solution for MKV playback.
Play MKV on Mac
On macOS, VLC Media Player could be your first choice for MKV files playing. VLC is one of the best .mkv players on Mac since it offers smooth & simple. Besides, it is incredibly compatible with not only MKV files but almost all video formats. It's worth mentioning that VLC is free to use.
Play MKV on iOS
Apple's native media player - QuickTime, does not support MKV files. Therefore, you're supposed to get third-party apps on your iOS to open MKV videos. Here comes a perfect player for you - VLC Media Player. Just enjoy free MKV files playing on your iPhone or iPad with VLC.
Play MKV on Android
Speaking of the feasible media players for MKV files on Android, a substantial number of MKV file players are available on the Google Play Store. In this instance, MX Player and VLC. Both of them can open and play MKV videos effortlessly & smoothly.
Frequently Asked Questions (FAQs)
Are MKV files safe to download?
MKV files themselves are safe, but the safety of any file depends on its source. Download MKV files only from trusted websites to avoid malware.
What programs play MKV?
Dozens of programs can play MKV videos, such as VLC Media Player, Media Player Classic, Kodi, Windows Media Player, etc. In addition, some players may require you to install additional codec packs for full MKV compatibility, especially if your MKV file contains less common codecs or features.
Are MKV files larger than other video formats?
Due to their support for high-quality video and audio codecs, which require more data to be stored, MKV files often have larger file sizes compared to other formats.
Is MKV a legal format?
Yes, MKV is a legal and open-source format, but copyright laws should be respected when using it for commercial purposes.
How to open MKV files on Mac?
Wondering how to play MKV on Mac? Mac's native QuickTime Player doesn't support MKV file format. Therefore, you need to find other MKV players to open MKV files on Mac. VLC Media Player is your best choice to open or watch MKV files, which is in a position to play MKV videos smoothly for free.
How to convert MKV to MP4 or other formats?
Our Online MKV to MP4 Converter is one of the best tools for you to convert MKV videos safely & quickly without no charge! It's quite simple for you. Merely upload your MKV files and choose MP4 as the output format, then tap the Download button to change MKV to MP4 effortlessly in seconds!
How can I make MKV files?
To create MKV files, you'll need specialized software capable of encoding media into the MKV format. Some popular options include MakeMKV and HandBrake. These tools enable you to convert your existing videos or rip content from DVDs and Blu-rays into MKV format.
Conclusion
In conclusion, MKV, short for Matroska Video Files, is a versatile multimedia container format that offers flexibility, high-quality video, and support for various multimedia elements like subtitles and chapter markers. MKV is your best choice for storing and sharing top-quality video on different devices and programs. Remember to use MKV files responsibly, and you'll unlock a world of multimedia possibilities.
Last updated: 2023-09-14