Premium Converter
4.8 1.5K ratings
Convert audio/video with no quality loss
Convert between 300+ video & audio formats
Facilitate conversion at an ultra-fast 60X speed
Integrated with trim and merge editing tools
Grab music & video from 1,000+ popular sites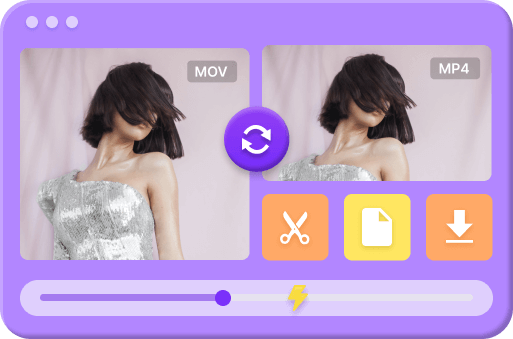 What is MOV?

- Exploring the Basics of the MOV Format
Have you ever met the MOV file? Are you an avid enthusiast pondering what device and player MOV can be opened on? Do you desire to learn the main merits of using the MOV format? If your answer is yes, so lucky you are! In the article, we will embark on a journey to the world of MOV files.
What is A MOV File?
Released in the early 1990s, MOV was Devised by Apple as an exclusive format for QuickTime, As a video and audio file format is used to contain various types of data, including video and audio tracks and text. Leveraging a compressed data scheme, the MOV format allows files to be stored with no significant loss of quality. So far, the MOV format has been widely supported on other platforms and can be played using various multimedia software applications, including Windows Media Player, VLC media player, and QuickTime Player.
Pros

Superior quality
Support for metadata
Easily editable and exportable
VS
Cons

Limited compatibility
Relatively large file size
Outstanding Features of MOV
Supreme Quality
Renowned for their high-quality video and audio playback, MOV files employ sophisticated compression algorithms that preserve exceptional visual and audio fidelity. This feature renders them well-suited for professional applications and multimedia projects.
Ease of Editing and Exporting:
MOV files enjoy broad support from professional video editing software, simplifying the editing process. You can effortlessly trim, cut, merge, and apply diverse effects to MOV files without compromising the original quality. Moreover, MOV files can be seamlessly exported into various formats, allowing smooth integration into diverse workflows.
Usages of MOV
Digital Video Production
As digital video production goes viral in various fields, a great number of internet influencers, video content creators, and professionals extensively employ MOV files for multiple purposes. .mov file stands out for its supreme quality and wide compatibility with video editing software, which makes it an ideal choice for capturing and storing raw footage. Hence filmmakers and videographers frequently favor MOV files for their projects.
Multimedia Presentations
When it comes to creating captivating multimedia presentations, MOV files prove to be the most suitable pick. Its outstanding features of combining video, audio, and text tracks enable people to create engaging and interactive presentations with an awesome viewing experience. By seamlessly integrating MOV files into presentation software, you can appeal to your audience with an exciting visual element.
Streaming and Online Content
With the surge of online streaming platforms and social media, MOV files have emerged as a popular format for sharing video content on the internet. Numerous video-sharing websites and social media platforms support MOV files, offering users chances to upload and stream their videos without hassle.
MOV vs MP4: Which is Better?
Is MOV or MP4 better? It is a common question with no absolute answer. Each format possesses its own strengths and weaknesses. However, we can focus on the difference between MOV and MP4 formats, which is of great benefit for making the ultimate choice.
In terms of video quality, MOV offers unparalleled quality that MP4 can not match. What is more, .mov files are extensively supported by professional video editing software. Therefore, MOV file is an excellent option for video editing or recreation. On the other hand, MP4 stands as a more universally compatible format, enjoying support across various devices and platforms, including Windows and Android, and other common devices. MOV is fully compatible with Apple devices, while MP4 excels in its unmatched compatibility.
Ultimately, the decision between MOV and MP4 boils down to compatibility requirements, desired quality, and the intended usage of the files.
How to Play .mov Files on Various Operating Systems?
Thanks to the worldwide usage of MOV files, several operating systems, including Windows, Mac, iPhone, and Android, have been available for playing .mov files. In the upcoming section, let us delve into the methods of opening MOV files on popular platforms.
How to Play MOV Files on Windows?
There is a comprehensive range of MOV file players available for Windows users to access and play .mov files, like VLC Media Player, Windows Media Player (with appropriate codecs installed), or QuickTime Player for Windows. These players allow for the seamless opening and playback of MOV files.
How to Open MOV File on Mac?
For Mac users, QuickTime Player is undisputedly the optimal choice for playing MOV files. On Mac systems, opening MOV files is never easier as QuickTime Player is the default multimedia player on macOS. Pre-installed on Mac devices, QuickTime Player offers a comprehensive range of features for playing and editing MOV files.
How to Open .mov Files on iPhone?
Developed by Apple, MOV shines in its ability to be accessible on almost all Apple devices. Therefore, if you wish to open a MOV file on your iPhone, you can freely use the built-in .mov player - QuickTime Player, or you can also explore your preferred third-party tools available on the App Store.
How to Open a MOV File on Android?
There are plenty of MOV players on Android to choose from. However, it is necessary to resort to the Google Play Store for downloading third-party MOV video players on Android devices. Popular options include VLC for Android, MX Player, and BSPlayer, which all serve as useful tools for playing MOV on Android smartphones and tablets.
How to Convert MOV File to Other Formats?
Even though MOV files boast multiple valuable merits, it is widely known that .mov file has some limitations. So it is a necessity to convert MOV to a format that caters to your requirements. When it refers to MOV conversion, our online MOV converter, and Premium Converter come in handy. However, if you pursue a better conversion experience, Premium Converter is the top preference while the online MOV converter has some inevitable restrictions. Utilizing Premium Converter, you can convert MOV to a wide range of formats or convert video to MOV in 4 simple steps. You don't need to master technological expertise, and specific skills, which makes it available for everyone! Best of all, it is able to maintain the best quality of output while converting in bulk at a rocket-fast speed! Here come 4 simple steps to help you to convert video files with Premium Converter.
Premium Converter
4.8 1.5K ratings
• Convert file to MP4, MOV, OGG, MP3, WAV, and any video/audio formats.
• Support 4K/HD 1080p/SD 480p video conversion.
• Convert video to GIF regardless of file size.
• Download high quality music & video from 1,000+ trending sites.
• Converted output is available for Apple, Samsung, Android, Huawei and so on.
• Able to trim/crop/merge video, adjusting output video width, height, and resolution.
Download and install the Premium Converter software on your device.
Launch the Premium Converter and go to the Converter tool. Next click the +Add File to import file you wish to convert.
After uploading the targeted file, you are supposed to choose a desired format from the list of video and audio formats.
Hit the Convert or Convert All button to initiate conversions.
Frequently Asked Questions (FAQs)
What does MOV file stand for?
The term MOV stands for QuickTime Movie, which denotes a file format developed by Apple Inc. for the QuickTime multimedia framework.
How to convert MOV to MP4?
To convert MOV files to MP4, numerous online video converter software options are available. Our Premium Converter allows you to convert MOV to MP4 easily and quickly. It also has the ability to convert in bulk at an ultra-fast speed and allows users to trim and merge video while converting. Moreover, users can download music and video by copying links from many websites. Don't hesitate to try it!
Can you open MOV files on iPhone?
Certainly! MOV files can be opened on iPhones. The default media player on iOS devices, QuickTime Player, supports MOV files. Additionally, third-party media players available on the App Store can be employed to open and play MOV files on your iPhone.
How to play MOV files on Windows 10?
To play MOV files on Windows 10, you can utilize media players such as VLC Media Player, Windows Media Player (with appropriate codecs installed), or QuickTime Player for Windows. These players provide the necessary support for opening and playing MOV files on the Windows operating system.
Is MOV better than MP4?
The choice between MOV and MP4 depends on your specific needs and requirements. MOV offers superior quality and extensive support for professional video editing software. MP4, on the other hand, boasts wider compatibility and support across various devices and platforms. It is advisable to consider your compatibility needs and quality requirements before deciding which format better suits your use case.
Conclusion
To conclude, as a digital media, MOV file sets apart from other video formats for its high quality and metadata support, and ease of editing. However, challenges related to compatibility and relatively large file sizes should be taken into account. The common questions: What is MOV, what are the applications, the difference between MP4 and MOV formats, and how to play .mov files and the best solution - Premium Converter to convert MOV files are all elaborated in the article.
Sincerely wish the above can be a huge aid for you to get a clear understanding of MOV format that will enhance your multimedia experience.
Last updated: 2023-06-16