Premium Converter
4.8 1.5K ratings
Convert audio/video with no quality loss
Convert between 300+ video & audio formats
Facilitate conversion at an ultra-fast 60X speed
Integrated with trim and merge editing tools
Grab music & video from 1,000+ popular sites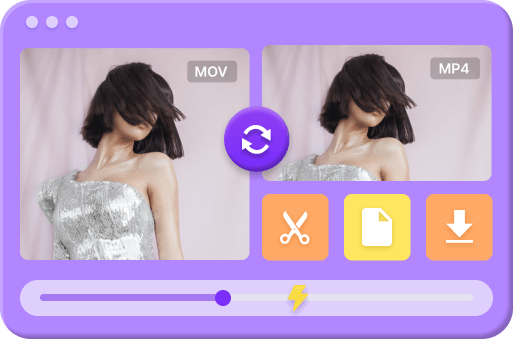 What is MP4?

- Exploring the Benefits and Usages of MP4
What is MP4 format? Whether you are curious about the MP4 file format? In the age of digital, the internet and media technology are set on the fast train of development. It's of huge significance to understand different video formats. With a broad application in several fields, MP4, also known as MPEG-4 Part 14, is the top preference for storing multimedia content. In this article, we'll delve into what MP4 is, elaborating its upsides and downsides, main features, major uses, how to convert MP4, and how to play MP4. So, let's dive in!
What is An MP4?
Accepting as the abbreviation for MPEG-4 Part 14, MP4 played a leading role in changing and advancing the storage, playing, and sharing of video and audio files. MP4 is a digital multimedia container format, which is utilized worldwide to save video and audio, subtitles, images, and even metadata in the .mp4 extension. It is a high-compression file format that has gained a lot of popularity. The best thing about MP4 file is that it is possible to maintain almost all the original quality in a smaller size.The following will focus on its advantages and disadvantages, key features, common applications, and comparisons with other video formats.
Pros

Unparalleled compression efficiency
Broad device compatibility
Comprehensive multimedia support
Streaming capabilities
VS
Cons

A "lossy" compression format
Susceptible to errors
Key Features of MP4
Seamless Compatibility
MP4 shines in its unmatched compatibility, which makes it perfect to seamlessly playback across a diverse array of devices and platforms. Whatever device you wield, a Windows PC, a macOS device, a Linux system, iOS, Android, or even a smart TV, MP4 are fully compatible with them. This versatility ensures effortless accessibility to your favorite videos and audio across multiple devices.
Unmatched Versatility
MP4 files support an abundant assortment of multimedia content, including video, audio, subtitles, images, and even 3D graphics. It is an ideal choice for multimedia projects, spanning video editing, production, and multimedia presentations on various social media platforms, enhancing the overall viewing experience.
Metadata Support
MP4 incorporates metadata support, empowering users to embed additional information within the file. This metadata encompasses details such as title, author, copyright information, and descriptive tags. Not only does the feature facilitate the organization and categorization of media files, but also makes it easier to be searched and discovered by people.
Flawless Streaming Capabilities
MP4 excels in streaming capabilities, making it a superb option for online content-sharing social media platforms. This format allows for smooth streaming of videos over the internet, guaranteeing uninterrupted playback for viewers. With MP4, you can share your videos with a global audience with ease, regardless of their location or internet connection.
Common Uses of MP4
Online Video Sharing
Due to .mp4 file's compatibility, multimedia support, and streaming capabilities, it is an ideal format for online video-sharing platforms. Prominent websites like TikTok, Instagram, Facebook, Vimeo, and various social media platforms or streaming sites extensively utilize MP4 format as the most commonly supported format, which contributes to seamless video streaming and sharing experiences.
Digital Video Playback
Well-recognized as the most standard video format for digital video playback, MP4 video caters to all your playing needs. Whether you're an avid fan of movies, TV shows, or a user-generated video content creator, it is common to encounter or utilize MP4 files. Its broad compatibility offers a bonus for people to effortlessly playback on various media players and devices.
Mobile Devices and Portable Media Players
MP4's versatility and compression efficiency render it a perfect fit for mobile devices and portable media players. Smartphones, tablets, and dedicated media players often prioritize MP4 playback due to its ability to provide high-quality video and audio within limited storage space.
Video Editing and Production
MP4 has enjoyed large popularity among video editors and producers for its versatility and widespread support. Numerous professional editing software packages accommodate MP4, simplifying the editing, modification, and enhancement of video content without compromising quality.
MP4 vs. Other Video Formats
MP4 vs. MOV
When comparing MP4 and MOV formats, both offer similar merits and compatibility. However, MP4 vs MOV, MOV files developed by Apple are commonly associated with Apple's QuickTime player and the macOS environment, whereas MP4 enjoys broader support across multiple platforms and devices.
MP4 vs. MKV
MP4 and MKV are both widely-used container formats, yet they differ in terms of compatibility and features. While MP4 ensures better compatibility across devices and platforms, MKV provides more extensive support for various multimedia elements and features, making it a preferred choice for specific applications.
MP4 vs. AVI
AVI, once a dominant video format, has been overshadowed by MP4's enhanced compression efficiency and broader device compatibility. MP4 offers superior streaming capabilities, making it a more suitable choice for online content sharing and modern media consumption.
How to Convert Video to MP4 or Convert MP4 to Other Formats
To convert videos to MP4 or vice versa, a large number of video converter tools that are of mixed quality are available on the market. The online MP4 converter facilitates easy conversion of MP4 files, but it also comes with limitations. Do you desire to wonder which video converter is the best choice? Look no further! We are here to recommend the Premium Converter to you, which has an outstanding ability to convert video to any format with no size restriction and works at 60X exceedingly fast speed. What's the most awesome thing about it is that it can meet all video and audio conversion needs. In addition, trim and merge video editing features available here, and it endows you the chance to grab the best quality video and audio from any site. Let's explore a simple three-step process to accomplish this task.
Premium Converter
4.8 1.5K ratings
• Convert file to MP4, MOV, OGG, MP3, WAV, and any video/audio formats.
• Support 4K/HD 1080p/SD 480p video conversion.
• Convert video to GIF regardless of file size.
• Download high quality music & video from 1,000+ trending sites.
• Converted output is available for Apple, Samsung, Android, Huawei and so on.
• Able to trim/crop/merge video, adjusting output video width, height, and resolution.
Download and install the Premium Converter software on your device.
Launch the Premium Converter and go to the Converter tool. Next click the +Add File to import file you wish to convert.
After uploading the targeted file, you are supposed to choose a desired format from the list of video and audio formats.
Hit the Convert or Convert All button to initiate conversions.
How to Play MP4?
The rapid advancement of media devices brings huge convenience to people when playing MP4 files is a straightforward process. Here are three common methods to play MP4 files on your preferred device.
Native Media Players
Most modern devices are equipped with native media players that can play MP4 file. Whether you're using a Windows PC, Mac, or smartphone, simply double-click the MP4 file, and it will automatically launch in the default media player.
Third-Party Media Players
In addition to native media players, numerous third-party media players are available, offering advanced features and customization options. Popular options include VLC Media Player, KMPlayer, and PotPlayer. Install your preferred media player that plays MP4 video effectively, then open the MP4 file using the player's file explorer or drag-and-drop functionality.
Online Video Platforms
When it comes to streaming online, MP4 is the most ideal format. There are a diverse array of online media platforms that are designed for opening .mp4, such as TikTok, Vimeo, Nicovideo, Reddit, Dailymotion, and more streaming sites. These websites all enable you to upload, stream, and share MP4 files seamlessly.
Frequently Asked Questions (FAQs)
Is MP4 the same as MPEG-4?
No, MP4 is not equal to MPEG-4. MP4 is a digital container file, but MPEG-4 is regarded as the standard for encoding video content within MP4 files.
Can I play MP4 files on my smartphone?
Yes, MP4 can be played on several smartphone systems, such as Android, iOS, and more phones.
Which video editing software supports MP4?
Adobe Premiere Pro, Final Cut Pro, VSDC Free Video Editor, Lightworks, DaVinci Resolve and other professional video editing software are able to edit MP4 files. Just choose one that is suitable for your needs. You can also try our Premium Converter that allows you to trim and merge video with highest efficiency.
How do I convert other video formats to MP4?
Our Premium Converter is the top option for converting video to MP4. It features a straightforward interface that is friendly to the green hand. It is so easy to use that people don't need to learn specific skills. Furthermore, the tool performs tasks at 60X speed and provides you with trim and merge tools. It deserves your try!
What are the advantages of using MP4 for online video sharing?
MP4 offers high compression efficiency, allowing for faster uploading and streaming of videos online. Its broad compatibility ensures that viewers can access and play the shared content across various devices and platforms.
Is MP4 compatible with all devices and platforms?
In general, MP4 can be supported by almost all devices, operating systems, media players, and online platforms, such as Windows, Mac, Android, and iOS.
Conclusion
To sum up, MP4 format has emerged as a versatile and widely-adopted digital multimedia format. It boasts efficient compression, wide device compatibility, multimedia support, and streaming capabilities, which make it a favorite pick. In the article, we go through what is MP4, understanding the MP4 definition, vital features, shortcomings, common application, and the difference between MP3 and MP4, MP4 and MOV, MKV, AVI. Most significantly, we introduce the well-reviewed tool - Premium Converter, which is perfect for easy and fast video and audio conversion while ensuring excellent quality. It is a boon that you can never miss! Hope the above offers you great assistance!
Last updated: 2023-06-16