Premium Converter
4.8 1.5K ratings
Convert audio/video with no quality loss
Convert between 300+ video & audio formats
Facilitate conversion at an ultra-fast 60X speed
Integrated with trim and merge editing tools
Grab music & video from 1,000+ popular sites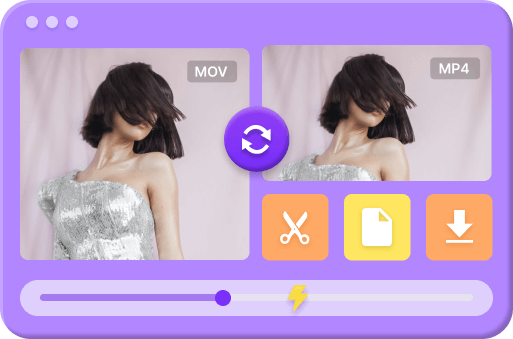 What is PNG?

- A Comprehensive Guide to Portable Network Graphics
Driven by the increasing demand for image creation, and the innovation of social media, and digital technology, PNG has emerged as a pivotal image format with wide applications for sharing photographs and designing web graphics. So it is paramount to learn the PNG meaning, and make a wise choice of image format. The upcoming content will go into the whelm of PNG, representing you with the upsides and downsides of PNG file, the difference between PNG and JPG, GIF, and the top tool for PNG conversion and opening PNG images.
If you show great interest in it, please read on!
What is A PNG File?
At its core, a PNG file is a type of raster graphics file format that was developed as an alternative to the older GIF format. It is the abbreviation of Portable Network Graphics, utilizing advanced compression techniques to maintain the original quality of images even after several edits. Furthermore, PNG file stands out for their superior fidelity, and it also allows for transparency, which renders it a popular option for many digital usages.
Pros

Lossless compression
Transparency support
Wide color support
Universally compatible
VS
Cons

Larger file size
No animation
Excellent Features of PNG
Sound Quality
By employing lossless compression, PNG pictures ensure that image quality remains uncompromised, making it well-suited for tasks that require precise image details and fidelity.
Transparency Allowed
Transparency has a favorable effect on graphic design, particularly for logos, icons, and web graphics. PNG excels in this regard by providing support for varying degrees of transparency, facilitating seamless blending of images with diverse backgrounds, and resulting in visually captivating compositions.
High Color Fidelity
Another key advantage of PNG lies in its ability to accommodate a broad color gamut. This proves particularly advantageous for graphics and images that demand accurate color representation, such as digital art, illustrations, and photographs.
What is A PNG File Used for?
Web Design
The two remarkable features of PNG pictures are: PNG can be transparent and have high color fidelity, which are the key factors in web design. Hence, it is regarded as the preferred format for logos, icons, and other graphics that need to seamlessly blend with different website backgrounds.
Image Editing
Due to its superb quality, PNG photo has won the favor of professional photographers and graphic designers. The ability to keep image quality uncompromised during editing and post-processing stages is perfect for image editing.
Print Media
It is well-known that PNG shines on the merits that it offers satisfactory quality, high color fidelity, and transparency. While primarily a digital format, PNG can also be employed in high-quality print media such as brochures, posters, and flyers. Therefore, .png file is a nice go-to file format for professional printing purposes.
PNG vs. Other Image Formats
PNG vs JPEG
PNG: On the other hand, PNG is a lossless compression format that preserves the original image quality without sacrificing any data. It is more suitable for images that require transparency, sharp edges, and precise color representation. PNG finds common applications in graphics, logos, icons, and images that demand high fidelity and transparency.
JPEG: is a lossy compression format that excels in compressing photographs and complex images featuring natural scenes. It achieves high compression rates by selectively discarding image data, resulting in some loss of quality. JPEG is commonly used for web images, digital photography, and online image sharing due to its small file sizes.
PNG vs SVG
PNG: PNG, on the other hand, is a raster format that represents images using pixels. It is best suited for images that require high detail and do not need to be scaled dynamically. PNG offers lossless compression and transparency support, making it more suitable for certain types of graphics.
SVG: SVG is a scalable vector format that uses mathematical formulas to represent images. It is resolution-independent, meaning it can be scaled without losing quality. SVG is ideal for logos, icons, and illustrations that require scalability and dynamic interaction.
How to Convert PNG?
Although PNG image can provide outstanding quality, they are large in size, which may take up more space on devices. To meet personal needs, there may be instances where you need to convert PNG files to another format or convert image to PNG file. It is essential to find a reliable and efficient conversion tool. We would like to share two well-acknowledged image converters - online free PNG converter and Premium Converter. If you wanna lock more possibilities for converting images, you can choose the Premium Converter that allows you to convert images and video between a great variety of formats while guaranteeing the best quality. Moreover, the tool is able to convert in bulk at an exceedingly fast pace. It is available to download music and video from any website and social media. To convert PNG files with the highest efficiency, you can follow the 4 easy steps below.
Premium Converter
4.8 1.5K ratings
• Convert file to MP4, MOV, OGG, MP3, WAV, and any video/audio formats.
• Support 4K/HD 1080p/SD 480p video conversion.
• Convert video to GIF regardless of file size.
• Download high quality music & video from 1,000+ trending sites.
• Converted output is available for Apple, Samsung, Android, Huawei and so on.
• Able to trim/crop/merge video, adjusting output video width, height, and resolution.
Download and install Premium Converter on your device.
Open the software, then you should go to the Convert tab. Next, click the + Add File button to import the file you want to convert.
Select a desire format and output quality you need.
Hit the Convert or Convert All button to convert PNG to other formats and vice versa.
How to Open PNG Files?
PNG image has a reputation for awesome quality, which makes it a top preference when choosing an image format or editing an image. Anyway, it is vital to open .png file by using a suitable PNG file opener. There are numerous default image viewers, image editing software, web browsers, or dedicated image viewer apps on mobile devices that are available for opening .png file. Windows, macOS, and Linux, and more operating systems are equipped with built-in image viewers capable of seamlessly opening .png file. Adobe Photoshop, GIMP, Paint.NET and etc. are all reliable and powerful PNG file openers.
Free to choose a preferred PNG filer viewer to get an impressive experience.
Frequently Asked Questions (FAQs)
What does PNG stand for?
PNG stands for Portable Network Graphics, a type of raster image file.
Should I save my photos as JPEG or PNG?
The choice between JPEG and PNG depends on your specific needs. If smaller file sizes and transparency are not essential, JPEG is generally more suitable for photographs. However, if you require high-quality graphics with transparency support, PNG is the preferred choice.
Can you convert PNG to JPG?
Yes, you can convert PNG to JPG easily and quickly with Premium Converter. The tool is able to convert in bulk while keeping supreme quality and provides trim and merge tools for video editing. It is worth your try!
Are there any limitations to using PNG?
In terms of file size, the PNG image is larger than other formats, like GIF, JPEG, and more. In addition, PNG photos can't support animation compared with GIF.
Can I use PNG images for print purposes?
Yes, PNG images feature high color fidelity and transparency, so it is the optimal pick for printing.
Conclusion
In conclusion, PNG (Portable Network Graphics) is a versatile image format that offers numerous advantages for various digital applications. Its lossless compression, transparency support, wide color gamut, and compatibility make it a reliable choice for web design, image editing, and print media. What is PNG? With the assistance of the article, I believe that you must understand its definition, features, and uses. By comparing PNG with other formats like JPEG and GIF, you can make informed decisions about when and how to effectively utilize PNG.
Last updated: 2023-06-16