Premium Converter
4.8 1.5K ratings
Convert audio/video/image with no quality loss
Convert between 300+ file formats
Facilitate conversion at an ultra-fast 60X speed
Integrated with trim and merge editing tools
Grab music & video from 1,000+ popular sites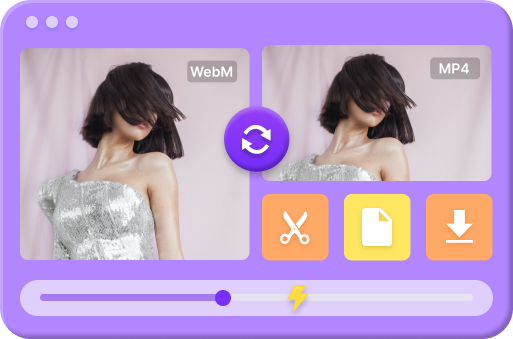 What Is WebM?

- Exploring the World of WebM
Are you ready to delve into the fascinating realm of WebM? WebM format is prevalent in the digital landscape. Learning about WebM files, elaborating on pros & cons, main features, common uses, how converting WebM, and how to play WebM is incredibly beneficial to all of us. Join us on this journey into the heart of WebM files!
Unpacking WebM: What Is a WebM File?
WebM emerged as a groundbreaking video format introduced by Google back in 2010. It stands as an open-source solution crafted for efficient online video streaming and seamless web sharing. WebM videos work on a substantial number of browsers, including Google Chrome, Windows Media Player, Firefox, VLC Media Player, etc. Thanks to its outstanding compressibility, WebM serves as an alternative to other video formats, such as MP4, FLV, or AVI.
Pros

High-Quality Compression
Open Source and Free
Browser Compatibility
Smooth Streaming Experience
VS
Cons

Limited Platform Availability
Complex Coding
Compatibility Challenges with Older Browsers
Remarkable Features of WebM
Excellent Compression Performance
WebM employs advanced compression techniques to keep video files small without compromising quality, ensuring faster loading times for websites. It provides lightning-fast loading times for websites, ensuring an uninterrupted viewing experience.
Error-Free Playback
Seamlessly integrated with HTML5, the standard language for web content, WebM guarantees smooth playback across various browsers and platforms. Say goodbye to device or program compatibility issues and hello to hassle-free enjoyment.
Open-Source Format
The beauty of WebM lies in its open-source nature, allowing anyone to use it without the burden of licensing fees. This freedom fosters widespread adoption, making it a top choice for content writers of all stripes.
Top-Quality Video
Looking for a high-quality video format? WebM is the best choice for you to pursue top-quality videos. Supporting high-definition and 4K resolutions, WebM is the best choice for a wide range of programs and websites. It can deliver stunning visual quality while maintaining a small file size.
What Are WebM's File-Format Specifications?
WebM is an open, royalty-free multimedia container format designed for the web. It's primarily used for streaming video and audio content on the internet. Here are the key specifications for the WebM file format:

Video Codec: WebM primarily uses the VP9 video codec, which provides efficient compression while maintaining good video quality. VP8 was previously used, but VP9 is more commonly employed for higher quality.

Audio Codec: WebM typically uses the Opus audio codec for its audio streams. Opus is known for its excellent compression and audio quality, suitable for various audio formats.

Container Format: WebM uses the Matroska container format, which is an extensible standard that can store various types of multimedia data, including video, audio & subtitles.

File Extension: WebM file types have the extension ".webm" for video and ".weba" for audio.
WebM in Action: Common Uses
Streaming Excellence
WebM is renowned for delivering high-quality videos efficiently. Its compression techniques maintain video clarity while reducing file sizes, making it perfect for streaming platforms like YouTube, Vimeo, and Twitch.
Animated Web Graphics
WebM extends beyond videos; it's a favored option for creating animated web graphics, enhancing the visual appeal of websites. Its good compressibility also makes it more engaging for users from different devices and platforms.
Video Editing
Video editors appreciate WebM's lossless compression, allowing them to edit videos without compromising quality. With WebM format, you can edit videos with confidence. WebM files ensure the final products definitely meet your professional standards.
HTML5 Integration
Smoothly integrated with HTML5, WebM is the go-to choice for web developers seeking compatibility with modern browsers, in this instance, Google Chrome, Firefox, Safari, etc. Besides, it also works on all devices, like Mac, Windows, Android & iPhone.
WebM vs Other Formats
WebM vs MP4
There are some differences between WebM and MP4, while both are popular choices for video content distribution. WebM offers superior video quality compared to MP4, although MP4 boasts better device compatibility. You can choose WebM or MP4 format according to your needs.
WebM vs GIF
WebM is ideal for smooth videos, while GIF is commonly used for simple, short animations and graphics. When it comes to file size & quality, WebM outperforms GIFs, making it the superior choice for high-resolution animations.
WebM vs MKV
WebM is a video format primarily used for online streaming. It excels in web compatibility, making it ideal for online streaming and sharing. MKV, on the other hand, is more versatile but not as compatible as WebM.
WebM vs WebP
WebM is a video format primarily used for online streaming, while WebP is an image format designed for web use. Both of them offer efficient compression and good quality, but WebP is more commonly used for images, while WebM is used for videos.
How to Convert Video to WebM or Convert WebM to other Formats?
Even though the WebM format boasts multiple valuable merits, it still has some limitations, such as its compatibility challenges with older browsers, Limited Platform, etc. Therefore, it's necessary to convert WebM to other formats to meet your needs. Our Online WebM Converter can convert files to WebM or convert WebM to any file format effortlessly without charge. If you pursue a better conversion experience, try our Pro Video Converter, one of the best video converters, converting WebM files to 1,000+ formats in batch & limitlessly. Essentially, it is in a position to enhance the video quality of output while converting at a rocket-fast speed! Here are four simple steps to convert video files with Premium Converter.
Premium Converter
4.8 1.5K ratings
• Convert file to MP4, MOV, OGG, MP3, WAV, and any video/audio formats.
• Support 4K/HD 1080p/SD 480p video conversion.
• Convert video to GIF regardless of file size.
• Download high quality music & video from 1,000+ trending sites.
• Converted output is available for Apple, Samsung, Android, Huawei and so on.
• Able to trim/crop/merge video, adjusting output video width, height, and resolution.
Install Premium Converter on your device.
Open the software. Then, go to the Converter tool. Next, tap the + Add File button to import the file you want to convert.
Select the desired format and output quality you need.
Click the Convert or Convert All button to convert WebM to other formats and vice versa.
How to Play WebM Files?
How to Play WebM Videos on Different OS?
Open WebM on iOS
Wondering how to play WebM on iPhone? Here are two simple WebM players for you.

PlayerXtreme Media Player: This third-party app on the App Store can play WebM videos on iOS devices.

VLC for iOS: VLC also has an iOS version that can handle WebM videos.
Play WebM Files on Android
VLC for Android: VLC is available as a mobile application for Android devices, and it can play WebM video format seamlessly.

MX Player: MX Player is another popular Android media player that supports WebM files.
Open WebM Files on Windows
VLC Media Player: VLC is an open-source media player that can play WebM videos without additional codecs. Merely download VLC, and then you can open your WebM files directly

Windows Media Player: Windows Media Player sometimes does not natively support WebM files. You can add WebM support by installing a codec pack like the WebM Media Foundation Components.
Open .webm on Mac
VLC Media Player: VLC is also available for Mac and can play WebM videos without any additional configuration.

QuickTime Player: QuickTime may not natively support WebM. You can use third-party plugins like Perian to add WebM support to QuickTime - or you can choose our Pro Video Converter, one of the best converters to change any formats to WebM in batch with no limit.
How to Open WebM Files on Web Browser?
Google Chrome: Google Chrome is one of the best WebM supported browsers. WebM files can play smoothly on it. Merely click the link of your WebM file, and it will start playing immediately.

Mozilla Firefox: Firefox also supports WebM video playing. You are in a position to open and play your WebM videos on Firefox effortlessly in seconds.

Microsoft Edge: Microsoft Edge, the default browser for Windows, also supports WebM format. Click the WebM link, and the videos will automatically play with fluency.
How to Play WebM Files with Media Players?
To play WebM files, you're supposed to make sure you've installed the right media player on your device first. Here are three popular media players known for their good compatibility with WebM:

VLC Media Player: VLC supports a substantial number of formats, such as WebM, MP4, AVI, etc. Besides, it's totally free to use. Merely download VLC and open the WebM files through it. Then, you are in a position to play the videos in no time.

Windows Media Player: Windows Media Player can play WebM files smoothly. However, you need to install WebM codecs first. Just download a codec pack like K-Lite Codec Pack to enable WebM support.

QuickTime Player (for macOS): If you're using a Mac, enjoy WebM files playing on QuickTime Player with ease. Merely open QuickTime and drag the WebM file into it, and then you can play video directly.
Frequently Asked Questions (FAQs)
Is WebM a free format?
Yes, WebM is an open and royalty-free format, accessible to all users without licensing costs. You are able to use a WebM video 100% on the house.
Does WebM have audio?
Yes, WebM can support audio. WebM is designed to efficiently store audio and video. Therefore, WebM files can contain both audio and video streams within the same file.
Which browsers support WebM?
Most web browsers offer native support for WebM, ensuring cross-platform compatibility, for instance, Chrome, Firefox, Microsoft Edge, Opera, etc.
Does WebM support high-definition video?
Absolutely! WebM utilizes VP9 and VP8 video codecs, renowned for maintaining high-quality video even at lower bitrates.
Is WebM smaller than MP4?
Generally, WebM video tends to have a smaller file size than MP4 files while maintaining similar video quality. WebM uses more efficient compression algorithms to achieve better compression ratios than the commonly used H.264 codec in MP4 files.
How to convert WebM to MP4?
With Online WebM to MP4 Converter, you can convert WebM videos efficiently for free! Simply upload a WebM file and choose MP4 as the output format, then hit the Download button to convert WebM to MP4 in seconds!
Is WebM better than MP4 or other formats?
WebM offers competitive video quality and smaller file sizes, making it a strong contender for web-based content. However, the choice between formats depends on your specific needs and goals.
Conclusion
WebM file, as a powerful video format on the web, is known for its high quality & efficiency. It's one of the best choices for content writers and developers. Embracing WebM ensures that your audience enjoys a seamless and captivating online experience. Explore the possibilities of WebM today!
Last updated: 2023-09-08