Premium Converter
4.8 1.5K ratings
Convert audio/video with no quality loss
Convert between 300+ video & audio formats
Facilitate conversion at an ultra-fast 60X speed
Integrated with trim and merge editing tools
Grab music & video from 1,000+ popular sites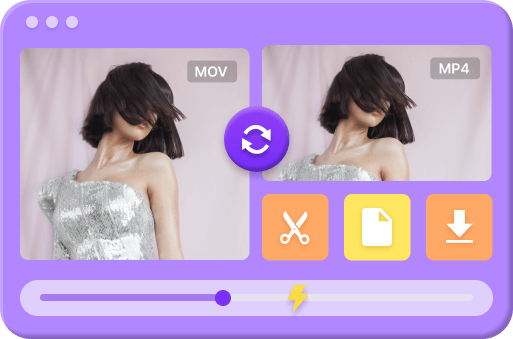 What is WebP?
Images play an unprecedentedly crucial role in communication, conveying emotion, spreading information, and even the commercial field. So there is an increasingly expanding demand for images that strike a balance between quality and file size. This is why WebP comes out. Created by Google, WebP image has gained vast popularity around the world. Have you ever used WebP file? In the upcoming part, we will step into the world of WebP by exploring its advantages and disadvantages, why to use WebP files, how to convert WebP, and some best methods to open WebP files.
If you show great interest in it, please keep reading.
What is a .webp File?
As the abbreviation for "Web Picture", the image file - WebP employs sophisticated compression techniques to significantly reduce file size while preserving exceptional visual quality. Therefore, Webp is an excellent alternative for the commonly-used image file formats - JPEG, GIF, and PNG. In addition, it is also purpose-created for web usage, empowering to speed up page load times and level up overall user experiences.
Pros

Smaller file size
Transparency support
Animation
Metadata
VS
Cons

Limited browser compatibility
Poor exporting interface
Compressed image quality
Outstanding Features of WebP
Image Files Take Up Space
WebP achieves significantly
smaller file sizes
compared to traditional formats like JPEG and PNG, resulting in faster loading times and improved website performance.
Lossless and Lossy Compression
WebP supports both lossless and lossy compression, providing the
flexibility
to choose between the highest image quality or maximum file size reduction based on specific requirements.
Transparency Support
Similar to the widely-used PNG format, WebP supports transparency, allowing for the creation of images with
smooth transitions
and
partial opacity
.
Animation Capabilities
WebP goes above and beyond static images by offering support for animations, making it an ideal replacement for the bulky GIF format.
What is A WebP File Used for?
Accelerate Page Loading
Thanks to their
reduced file sizes
, WebP images contribute to swift page loading times, enriching user experiences and minimizing bounce rates.
Save Bandwidth
With their compact nature, WebP images
consume less bandwidth
. They are particularly advantageous for websites operating under limited data plans or slower connections.
Enhanced SEO Performance
Pages that load faster and offer superior user experiences invariably
boost search engine rankings
, potentially elevating your website's visibility.
WebP vs. Other Image Formats
WebP vs PNG
Superior File Compression
: WebP's advanced compression algorithms result in significantly smaller file sizes compared to PNG.
Lossless and Lossy Compression
: WebP supports both lossless and lossy compression, while PNG predominantly relies on lossless compression.
Animation Support
: Unlike PNG, WebP extends its capabilities to animations, offering a versatile solution for dynamic visuals.
WebP vs JPEG
Unparalleled File Compression
: WebP surpasses JPEG in terms of compression, resulting in smaller file sizes without compromising image quality.
Transparency Support
: Unlike JPEG, WebP fully embraces transparency, enabling images with smooth transitions and partial opacity.
How to Convert WebP?
In the vast majority of cases, if you download images from the web, the image file you download is in WebP format. However, the WebP image can not be used in some applications, and software. It is necessary to convert WebP to other formats, such as JPG, JPEG, and PNG, which boast broad compatibility with almost all devices and browsers. This is where our
online WebP converter
and
Premium Converter
software step into the scene. The two tools are ideal options for converting .webp, but if you desire to
convert WebP images in bulk
with the highest efficiency, you'd better choose the Premium Converter. It is
full-featured
, offering services to help people to convert images, video, and audio between
300+ formats
while
maintaining the best quality
. Best of all, it is equipped with a
trim
and
merge
tool for editing videos. The Premium Converter absolutely deserves your trust!
Premium Converter
4.8 1.5K ratings
• Convert file to MP4, MOV, OGG, MP3, WAV, and any video/audio formats.
• Support 4K/HD 1080p/SD 480p video conversion.
• Convert video to GIF regardless of file size.
• Download high quality music & video from 1,000+ trending sites.
• Converted output is available for Apple, Samsung, Android, Huawei and so on.
• Able to trim/crop/merge video, adjusting output video width, height, and resolution.
First, you are supposed to download and install Premium Converter software on your device.
Launch the software, then you should go to the Convert tab and click the + Add File button to import the file you intend to convert.
Select the desired format and output quality you want.
Hit the Convert or Convert All button to convert WebP to other formats.
How to Open WebP Files?
When it comes to opening WebP files, you may try to open WebP in PhotoShop, which is difficult for many people. In fact, apart from PhotoShop, there are various solutions to open WebP images. We are willing to share some tools to open .webp files on Modern Web Browsers and Image Viewing Software
Modern Web Browsers: a large number of web browsers, including Google Chrome, Mozilla Firefox, Microsoft Edge, and Opera, natively support WebP files, allowing you to view WebP directly.
Image Viewing Software: Various image viewing software, such as IrfanView, XnView, and FastStone Image Viewer, support WebP files and allow you to open and view them.
FAQs
Is WebP supported by all web browsers?
WebP can be supported by major web browsers, like Chrome, Firefox, and Edge, but Internet Explorer 11 and the KaiOS browser can not support WebP images.
Is WebP better than JPEG?
WebP excels in applying better compression efficiency, supports transparency and animation, and boasts higher image quality at lower file sizes. However, JPEG is universally supported by a variety of devices, including older devices and software. So WebP or JPEG, which one is better, depends on your specific needs.
How do I convert WebP to JPG?
You can try our Premium Converter to convert WebP to JPG efficiently. Our tool excels in converting images with 300+ formats offered and working at an ultra-fast speed while not compromising quality. It is easy to use and allows users to download videos and music from many sites. There are more surprised waiting for you to explore!
Does WebP support transparency?
Yes, WebP supports transparency, allowing people to edit images for multiple purposes.
Can I use WebP for animated images?
Absolutely! WebP can accommodate animated images, so it is a favorable alternative for GIF images.
Is it possible to convert images to WebP?
Certainly yes! You can resort to our Premium Converter, which does a great job in converting images to WebP at a swift pace while offering batch conversion service. Furthermore, the tool has the ability to keep the original image quality through image conversion. It is a big fit for you!
Conclusion
WebP image shines in several applications that it can be utilized to faster page loading times, enhance users' experience, save bandwidth, and even improve SEO performance. In the article, the question what is WebP? You must have a deep understanding. Additionally, we also elaborate on the merits and demerits of WebP, the usages of WebP files, and the awesome method - Premium Converter to convert and some convenient approaches to opening WebP.
We earnestly hope that you can gain a lot from the meaningful article
Last updated: 2023-06-21