Online OGG to MP3 Converter
convert OGG file to MP3 in seconds
Online Best OGG to MP3 Converter
Are you tired of dealing with OGG format and want the convenience of MP3? Look no further! Introducing our advanced online OGG to MP3 Converter, designed to deliver top-notch audio quality with just a few clicks. Mere upload your OGG files and pick MP3 as the desired format. You will get the results you want in seconds with no charge. Try our Converter now and embark on a journey of superior sound quality!
Wanna Convert Files Without Limitation? Try the Premium Converter!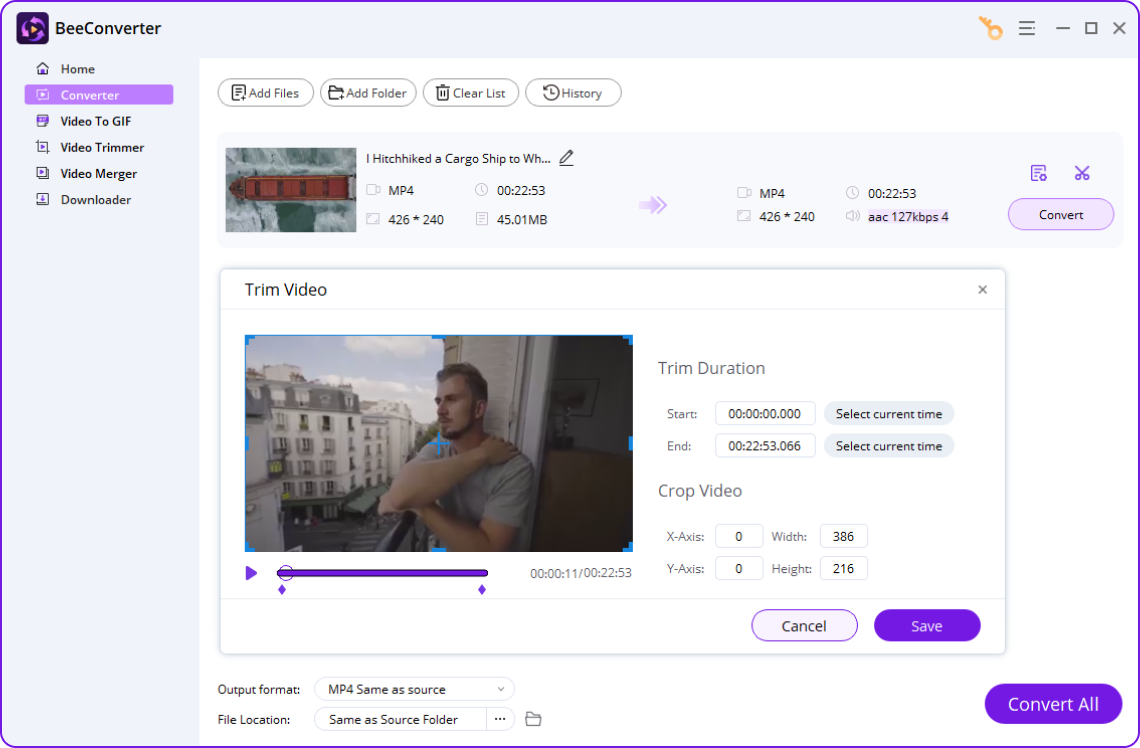 Premium Converter
Unrestricted file size for importing and exporting
Convert files between 300+ formats at 60X speed
Save 320K music and 4K videos from 1,000+ sites
Powerful video editing tools: trim, crop, and merge
How to Convert OGG to MP3 Online?
1. Upload the OGG File

Simply drag-drop your OGG files to the upload box.

2. Select the MP3 Format

Pick the MP3 format from the drop-down list of audio formats.

3. Start the Conversion

Tap the Convert button to begin the OGG file to MP3 conversion.
Details on OGG and MP3 File Formats
Platform
Description
OGG is a multimedia container format used for audio, video, and other content. Commonly associated with Ogg Vorbis, an open-source audio compression format, OGG efficiently stores and streams audio files. It's a versatile solution for multimedia content packaging and compression.
Associated programs
VLC Media Player
Windows Media Player
iTunes
Winamp
MIME Type
audio/ogg
File extension
Description
MP3 is a widely used audio compression format. It reduces the file size of audio recordings without significantly sacrificing quality, making it ideal for music storage and playback. MP3 files are common in digital music and are widely compatible with various devices and platforms.
Associated programs
Windows Media Player
iTunes
VLC Media Player
QuickTime
MIME Type
audio/mpeg
The Remarkable Features That Set Our Converter Apart
Convert OGG to MP3 Online

Our OGG to MP3 converter online tool enables you to convert from OGG to MP3 online while remaining top quality without installing any program or creating an account for a subscription.

Convert .ogg to MP3 Free

With KitsRun OGG to MP3 converter free tool, you are able to easily change OGG to MP3 format online at no cost. It's a totally free-to-use tool - no hidden fees or obligations are allowed here.

Highly Efficient

KitsRun OGG to MP3 converter is designed to offer you easy-to-use OGG to MP3 conversions. Simply upload your OGG files and pick MP3 format. You will get the final files you want in seconds.

Fast Converting Speed

We strive to offer you speed-oriented OGG to MP3 conversion. You're in a position to get your OGG converted to MP3 in seconds. Enjoy the happiness of getting results in the blink of an eye!

Top-Notch Quality

Experience audio like never before with our best OGG file to MP3 converter. We preserve the richness of your output MP3 audio, ensuring you can convert OGG to MP3 music with no quality loss.

Diverse Browsers Accessible

Serving as a web-based OGG to MP3 online converter, we are in a position to convert .ogg to MP3 music on all devices and most popular browsers, such as iPhone, Mac, PC, Chrome, etc.
Frequently Asked Questions
Why convert OGG to MP3?

OGG is a free, open container format that is efficient for streaming and manipulation of high-quality digital multimedia, but not all devices and software support it. MP3, on the other hand, is a widely supported audio format that plays nicely with most devices, making it a more versatile choice. If you have audio files in OGG format and want to ensure they can be played on a broader range of devices and applications, converting them to MP3 is a common solution. Try our OGG to MP3 converter, which can change OGG to MP3 audio online for free in top quality.

Can I convert OGG to MP3 on Mac?

With KitsRun OGG to MP3 online converter, you can easily convert your OGG audio to MP3 format on your Mac. Merely visit our site on your Mac and upload OGG files you want to convert, then select MP3 and tap the Convert button. You will get the final files you want in seconds.

How to convert MP3 to OGG online?

Are you looking for the best MP3 to OGG converter online tool to convert MP3 to .ogg online? Just resort to our free online MP3 converter, which can quickly convert MP3 files from and to any format online for free without downloading any program.

How can I convert OGG to MP3 unlimited?

What you're looking for is our Premium Converter. It's a powerful tool that can convert multiple OGG to MP3 with no limit. Besides, it's in a position to enhance your audio quality at blazing-fast speed. It also supports 1,000+ format conversions to meet all your needs!
How Would You Rate Us?
Please rate us 5 stars if you like the online OGG to MP3 converter!
Last updated: 2023-11-10