WebP to GIF Converter
Convert WebP to GIF Online with Ease
Best WebP to GIF Converter
Struggling searching for a simple and reliable method to convert WebP to GIF? Your search ends here! KitsRun online WebP to GIF Converter comes as a wide-acknowledged image converter. It boasts the ability to convert WebP file to GIF while guaranteeing output in the best quality. It also comes with a straightforward interface, which makes it easy to operate for novices. Best of all, the tool is web-based and free of cost, so it is compatible with most modern web browsers and devices. It is sure to provide you with an unrivaled conversion experience.
Wanna Convert Files Without Limitation? Try the Premium Converter!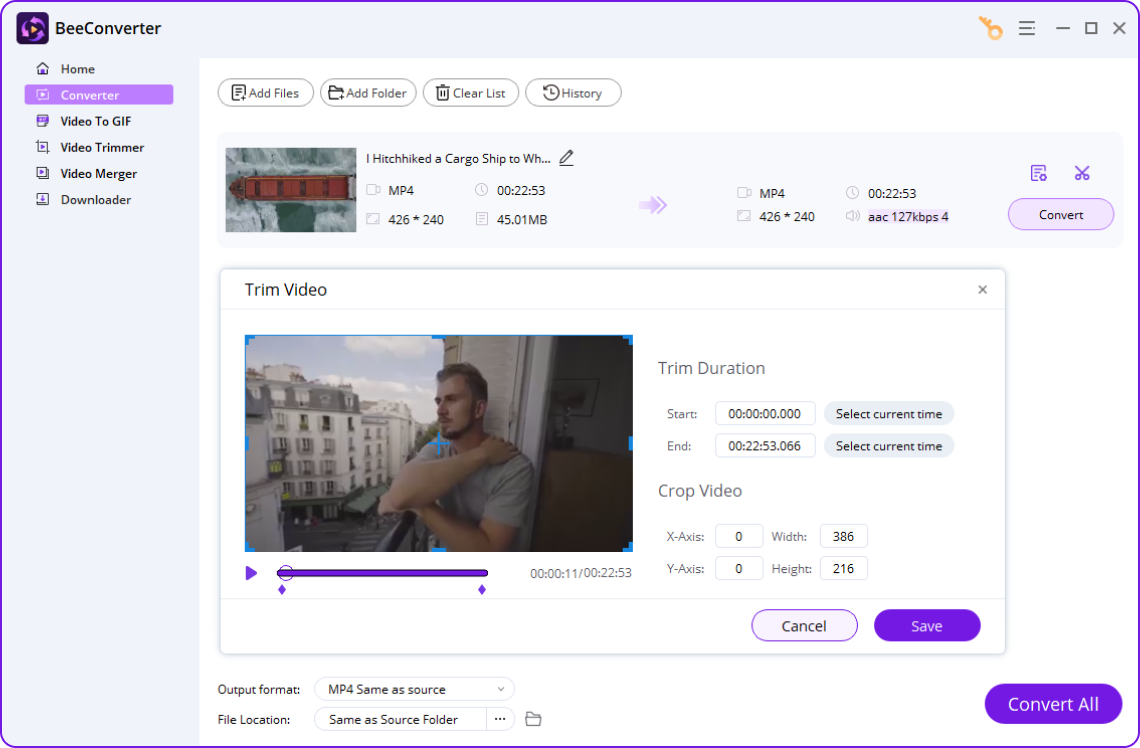 Premium Converter
Unrestricted file size for importing and exporting
Convert files between 300+ formats at 60X speed
Save 320K music and 4K videos from 1,000+ sites
Powerful video editing tools: trim, crop, and merge
How to Convert WebP to GIF Online?
1. Upload Targeted File

To begin the conversion, start by clicking the Upload button or dragging file to the page to upload the WebP file you wish to convert.

2. Choose Desired Format

Once you've uploaded your WebP file, next you are supposed to choose the output file format - GIF from the list of image file formats.

3. Start Converting

After uploading your file and selecting the desired format, simply click the "Convert" button to start converting WebP to GIF online for free.
Details on WebP and GIF File Formats
File extension
Description
WebP is an image format developed by Google, known for its superior compression capabilities and smaller file sizes compared to other image formats. It offers high-quality visuals and supports both lossy and lossless compression. WebP files are widely used on the web to improve page loading speeds and enhance user experience.
Associated programs
GIMP, Adobe Photoshop
GraphicConverter, Paint.NET
Windows Photo Viewer, Microsoft Office 2010, FastPictureViewer
MIME Type
Image/WebP
File extension
Description
A GIF, or Graphics Interchange Format, is a popular image file format that supports both static and animated images. GIFs have the unique ability to display a sequence of images, creating the illusion of motion or animation. This animation feature makes them so widely used for expressing emotions, and showcasing products.
Associated programs
Adobe Photoshop, GIMP
Piskel, Imgur
Giphy, SSuite
Make A GIF
MIME Type
Image/GIF
The Credible Features That Set Our Converter Apart
Convert WebP File to GIF Free

The WebP file to GIF converter offers a completely free-of-charge service to help you turn WebP into GIF. There is no hidden fee or paid ads, which makes it suitable for both personal and professional use.

Change WebP to GIF Easily

With the help of its intuitive interface and user-friendly design, people are able to navigate through the conversion steps. It is sure to enable users to complete WebP to GIF conversion with minimal effort.

No Sign-Up Required

Unlike other tools, our WebP image converter is free from sign-up. Users merely need to visit our page, and then they can start converting .webp to GIF instantly, which guarantees a hassle-free conversion experience.

Diverse Devices Accessible

Perfectly compatible with almost all common devices, like PC, tablet, smartphone, the WebP file converter is a convenient way to convert WebP file to GIF, regardless of whatever devices you use. It is a trustworthy tool.

Sound Quality Guaranteed

At the point of WebP to GIF online conversion, KitsRun WebP to GIF converter excels in preserving premium image quality, which makes the converted GIF file convenient to repurpose or recreate for multiple uses.

No Watermark Added

Utilizing our online tool, it is possible to convert WebP images to GIF without adding no watermarks or unwanted branding that will mar your converted files. You are free to edit and share the converted GIF file.
Frequently Asked Questions
Can I convert WebP file to GIF online?

Yes, you can. Our WebP file to GIF converter can help you out. It provides you with an awesome image format conversion with no requirement of installing software or resorting to an extension.

What is the best WebP to GIF converter?

There is no denying that KitsRun WebP to GIF Converter is first-rate. It allows you to make WebP converted to GIF with 3 easy clicks. Besides, our image converter is entirely free to use and offers full compatibility with devices and browsers. Come to get an image conversion with the highest efficiency.

How to convert WebP to GIF on Android?

Our tool is able to perform tasks on Android. Follow the steps below to convert WebP image to GIF.
Step 1. Proceed to our WebP to GIF converter site, and then click the Upload button or drop file to the upload area to import the WebP file you want to convert to GIF.
Step 2. Select the GIF format as the output file format.
Step 3. To start the conversion, you need to hit the Convert button.
How Would You Rate Us?
Please rate us 5 stars if you like the online WebP to GIF converter!
Last updated: 2023-06-16