Free VOB to MP4 Converter
Convert VOB to MP4 without hassle
Best Free VOB to MP4 Converter
Experience the extraordinary features of KitsRun Free VOB to MP4 Converter, which enables users to convert VOB file to MP4 in a straightforward three clicks. Just upload file, select an output format, and hit the Convert button to complete the conversion. It is such an ideal solution that is suitable for users of varying skill levels. Moreover, this robust video converter provides fast processing times, high-quality output, and seamless compatibility with a wide range of devices. Don't let this opportunity to enjoy an unforgettable video conversion experience pass you by.
Wanna Convert Files Without Limitation? Try the Premium Converter!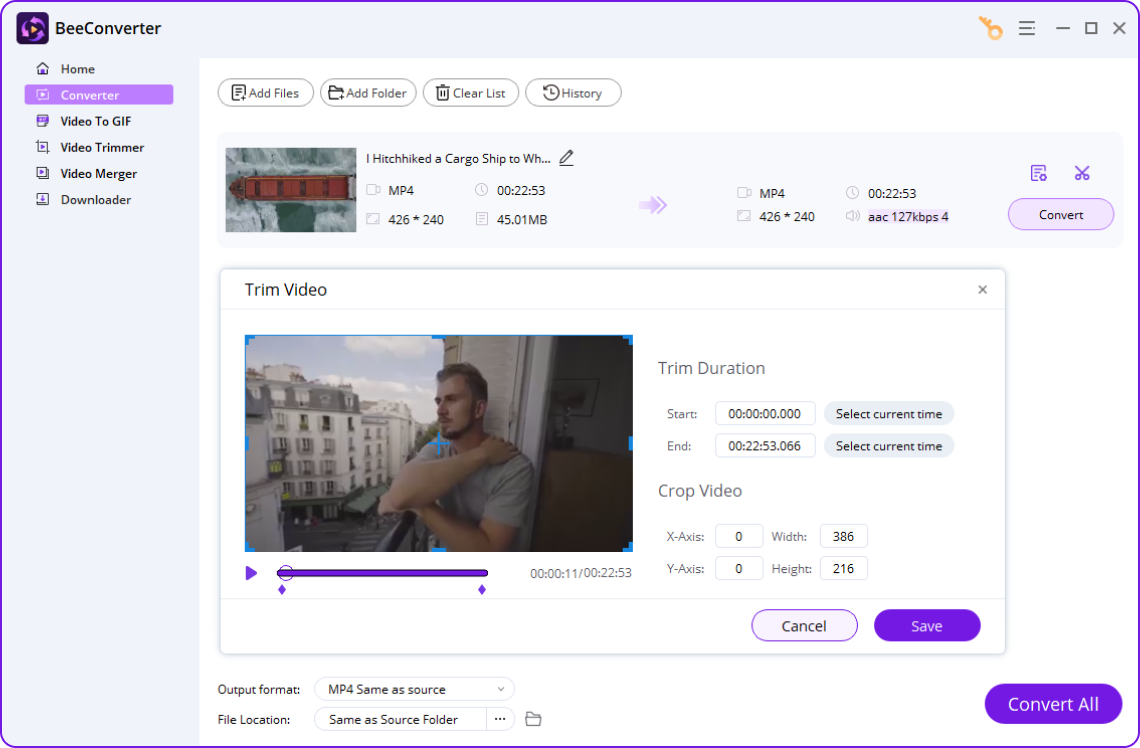 Premium Converter
Unrestricted file size for importing and exporting
Convert files between 300+ formats at 60X speed
Save 320K music and 4K videos from 1,000+ sites
Powerful video editing tools: trim, crop, and merge
How to Convert VOB to MP4 Online?
1. Upload the Targeted File

Upload VOB file by dropping file to the page or hitting the Upload button.

2. Select the MP4 Format

Choose the MP4 as the final output format from the list of video/audio formats.

3. Start the Conversion

Click the Convert to convert VOB file to MP4 at a fast speed.
Details on VOB and MP4 File Formats
File extension
.vob
Description
VOB stands for "Video Object," and it is a file format used for storing DVD video. VOB files contain video, audio, subtitles, and other DVD-related content, such as menus and navigation. It is typically compressed using MPEG-2 format, which provides high-quality video and audio with a relatively small file size. VOB files can also include copy protection or encryption to prevent unauthorized copying of the DVD content.
Associated programs
MPlayer, KKMPlayer,
GOM player, Media Player Classic
ALLPlayer, VLC media player
MIME Type
video/VOB
File extension
.mp4
Description
MP4, which stands for "MPEG-4 Part 14," has become a widely accepted digital multimedia container file format. It provides a plethora of applications for storing diverse multimedia types, such as video, audio, still images, subtitles, and text. MP4's unique selling point is its exceptional compatibility with a vast range of video programs and hardware devices, making it a versatile and convenient multimedia format.
Associated programs
Windows Media Player
Apple QuickTime Player
VLC Media Player, 5KPLayer
MIME Type
video/MP4
The Awesome Features That Are Perfect for Conversion
Cost-Free Conversion

The most exciting benefit of our VOB file converter relies on the fact that users don't need to pay a cent for any features. It is so reliable that there are no hidden fees or surprises over the course of conversion.

Quick Conversion Pace

Utilizing the advanced VOB file to MP4 converter, you can convert VOB files to MP4 in a fraction of the time. You no longer need to endure long waits and can obtain results instantly!

Effortless Operation

Our VOB to MP4 converter online has a remarkable ability that makes it a breeze to convert VOB to MP4 online - no matter the users' level of expertise. To convert VOB files, users merely need 3 simple clicks.

Professional-Quality Ensured

The top-notch VOB converter can help you get the most out of your VOB files, without sacrificing quality or performance. It is undeniably the choice to recreate for a wide range of professional purposes.

Cross-Device Compatibility

The VOB converting tool is designed to work seamlessly on any device, anywhere. Whether you're using a desktop computer, laptop, tablet, or smartphone, you can use our service to convert your videos with ease.

Keep Output Clean

The VOB video file converter always keeps your videos looking professional without a watermark or logo attached. Our tool leaves your videos clean and free of any unwanted markings.
Frequently Asked Questions
Can I convert a VOB file to MP4 online for free?

Absolutely, you can. Our site comes as an online free tool to convert VOB to MP4. It provides exceptional services that are all free of charge. What's more, it is simple to use, fast, and excels at converting .vob file without compressing original quality. Come to give it a try.

What is the best VOB to MP4 converter?

KitsRun VOB file to MP4 converter is the superior option to convert VOB files to MP4 online with just a few clicks. Our converter is fast, free, and easy to use. You don't need any technical knowledge or experience to use it. Simply upload your VOB files, choose the MP4 format, and click the convert button. Our converter will do the rest for you. Furthermore, it is accessible on smartphones, tablets, or computers. So don't miss it!

How to convert VOB to MP4 on Mac?

It is available to convert VOB to MP4 on Mac with our VOB Converter. Follow the 3 steps below!
Step 1. Head to the page to upload file that you are going to change to MP4. You can click the Upload button or drag VOB file to the upload area.
Step 2. Select the MP4 format as the final result format.
Step 3. Hit the Convert button to initiate the conversion.

How can I convert VOB to MP4 on Windows 10?

Our VOB to MP4 converter comes in hand if you need to convert VOB files to MP4 on Windows 10. It is capable of working perfectly on Windows 10, which guarantees you quick and professional VOB files to MP4 conversions online. Besides, the converter is entirely free. It is worth your try!

Is there a tool to convert VOB to MP4 without losing quality?

Yes, our Pro Video Converter is available for converting VOB files to MP4 with no quality loss. In the midst of conversion, the program will not ruin the original quality. Even if you intend to upgrade video and audio quality or edit them, our feature-rich converter can get you covered. In addition, it offers a service that allows users to download video and music from any site, which is a huge fit for people.
How Would You Rate Us?
Please rate us 5 stars if you like the online VOB to MP4 Converter!
Last updated: 2023-05-15