Online Audio to MP3 Converter
make audio converted to MP3 free in seconds
The Best Audio to MP3 Converter
Don't know how to convert TikTok, Insta, or Whatsapp audio to MP3? Elevate your music experience with our cutting-edge audio to MP3 converter! It's an outstanding tool that can convert audio files online for free without ruining sound quality. Besides, our best audio converter is designed for everyone, from tech novices to audio enthusiasts. With just three clicks, effortlessly transform your audio files into high-quality MP3 format in seconds. Try it now to enjoy the best audio conversion service!
Wanna Convert Files Without Limitation? Try the Premium Converter!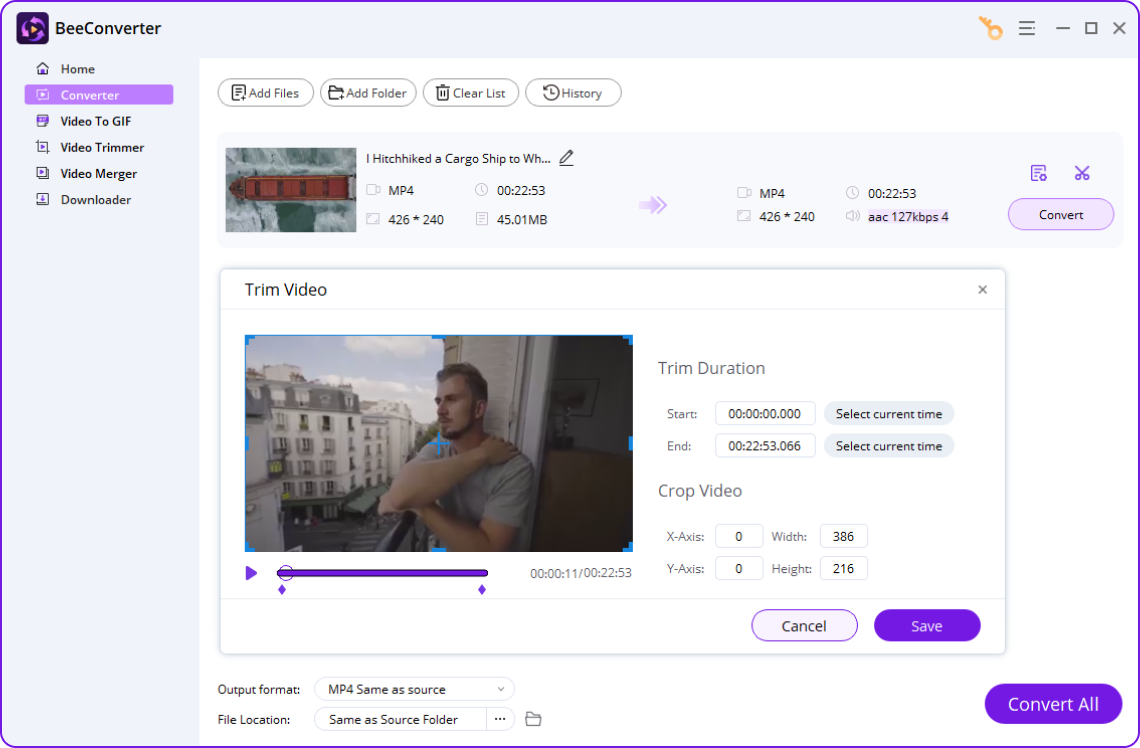 Premium Converter
Unrestricted file size for importing and exporting
Convert files between 300+ formats at 60X speed
Save 320K music and 4K videos from 1,000+ sites
Powerful video editing tools: trim, crop, and merge
How to Convert Audio to MP3 Online?
1. Upload the Audio File

Hit the Upload icon to add an audio file or drag it directly to our page.

2. Select the MP3 Format

Pick the MP3 format as the desired output format from the format list.

3. Start the Conversion

Tap the Convert button to launch the audio conversion.
Details on Audio and MP3 File Formats
Name
Description
An audio format refers to the way sound is encoded and stored in a digital file. Common audio formats include MP3, WAV, and FLAC. Each format has its own advantages and disadvantages in terms of file size, sound quality, and compatibility with different devices and software.
Associated programs
Windows Media Player
iTunes
Winamp
VLC Media Player
MIME Type
audio/mp4; audio/wav; audio/flac, etc.
File extension
Description
MP3 file is a digital audio format that uses a lossy data compression to reduce the audio file size. In simpler terms, it's a way to store and transmit audio files while making them smaller to save space. MP3 files are widely used for music and other audio-related applications.
Associated programs
Windows Media Player
VLC Media Player
iTunes
QuickTime
MIME Type
audio/mpeg
The Comprehensive Features That Make Our Converter Shine
Convert Audio to MP3 Online

With Kitsrun audio to MP3 converter online tool, you are in a position to convert audio to MP3 free online without the requirement of downloading any app. Enjoy the best online audio conversion here!

Convert to MP3 Audio Fast

Say goodbye to long waits and hello to instant results! KitsRun fast voice to MP3 online free tool is designed to offer you a super-fast conversion experience, which can convert audio to MP3 swiftly.

Top-Notch Conversion

Our audio file to MP3 converter provides you with the highest-quality audio transformation, converting audio to MP3 online for free without losing sound quality. Enjoy the best conversion service here!

Convert Music to MP3

As a 100% free-to-use tool, KitsRun music to MP3 converter enables you to convert music file to MP3 online without spending a dime - no hidden charge is allowed here. All service is on the house!

Excellent Compatibility

Our free audio to MP3 converter is incredibly compatible with all devices, including Mac, Windows, iOS, and Android. It also works efficiently on most browsers, such as Chrome, Microsoft Edge, IE, etc.

Convert Sound to MP3 Safely

Worried about data safety? Relax! Our free sound to MP3 converter prioritizes your information security, ensuring that all your uploaded files are processed securely and your data remains confidential.
Frequently Asked Questions
M4A vs MP3: which audio format is better?

MP3 is the widely supported choice for smaller file sizes and excellent compatibility. M4A, with its advanced AAC compression, offers better quality at similar sizes. Choose based on your device and priorities - MP3 for compatibility, M4A for higher sound quality. Therefore, you're supposed to convert M4A to MP3 songs or convert MP3 to M4A files for your different needs. Try our online audio to MP3 converter, which can convert M4A or any other format from & to MP3 files online for free without ruining quality.

Is there a music converter to convert song to MP3?

Our free music to MP3 converter is your best choice to convert music to MP3 format since it provides you with the best audio conversion online at no charge. Besides, it's a powerful tool that can transform audio files at lightning-fast speed without compromising quality.

How can I convert MP3 to audio file online?

Looking for an online MP3 to audio converter? Just resort to our free online MP3 converter, one of the best tools that enables you to convert MP3 from and to any format you want online for free in high quality. Simply upload your MP3 files and choose the output format. You will get the files you want in seconds.

Can I convert MP4 to MP3 online for free?

Want to convert MP4 audio to MP3 online without charge? Just use our online MP4 to MP3 converter. It's a fantastic tool that can convert MP4 files to MP3 online for free effortlessly & efficiently.

How to convert audio to MP3 in high quality?

Try our Premium Converter. It can convert audio, video, and image files to any format in high quality. Best of all, the audio conversion software enables batch conversion with no size restriction. Give it a spin!
How Would You Rate Us?
Please rate us 5 stars if you like the online Audio to MP3 converter!
Last updated: 2023-11-14